Image temps
Gregor Gaida. Graphistes jap. Desssin. Pas pour les petits. Blogs. Ward Shelley Homepage-Mozilla Firefox. Rencontres : Des rencontres avec les acteurs du monde de l'art-Mozilla Firefox.
Adam Bridgland | Multiples-Mozilla Firefox. Since graduating from the Royal College of Art in 2006, Bridgland has used a diverse range of materials and working methods to pursue an incisive and often witty exploration of distinctively British sentiments, externalising the underlying sense of loss and nostalgia that permeates our memories.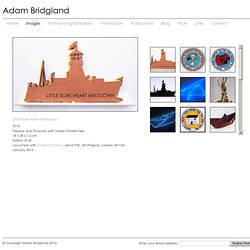 Vignettes of British back-packer's holidays, old-fashioned bus-tours, and childhood seaside breaks that figure strongly in his visual repertoire are often tinged with this feeling of time having passed too quickly, our memories gradually fading. Twinned with this however, is an upbeat celebration of themes distilled from children's colouring books, paint-by-numbers kits, old public transport posters and kitsch postcards, which he imbues with the kaleidoscopic richness of carefully chosen and thickly applied primary colours. Product List — super superficial-Mozilla Firefox. £38.00Cabin in the woods by John Stortz £38.00Gorilla by Charlotte Quillet £38.00Ladder by Ryan Todd £38.00Chasm by Matt Layzell £38.00I are Walrus by Patrick Seymour £38.00What Cat?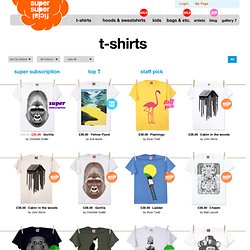 В Контакте | Фотографии. Agence Eureka, les images oubliées. Carson Ellis | Portfolio | Ruthie in the Gunshed. Artworks – Memento. Dictyophora indusiata/ウスキキヌガサタケ) Pink Tentacle. Le Tampographe Sardon - Mozilla Firefox. Retrogasm. YOUR MEAT IS MINE Yann black tattoo. CRAPPY TAXIDERMY. The Atlas Coelestis (1742) of Johann Gabriel Doppelmayr. Johann Gabriel Doppelmayr (also spelled Doppelmair, Doppelmaier or Doppelmayer) was the son of the Nuremberg merchant Johann Siegmund Doppelmayr (1641-1686) and was born on 27 September 1677 (many early sources incorrectly give his year of birth as 1671).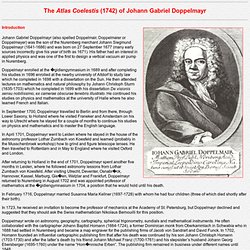 His father had an interest in applied physics and was one of the first to design a vertical vacuum air pump in Nuremberg. Doppelmayr enrolled at the gidiengymnasium in 1689 and after completing his studies in 1696 enrolled at the nearby university of Altdorf to study law which he completed in 1698 with a dissertation on the Sun. He then attended lectures on mathematics and natural philosophy by Johann Christoph Sturm (1635-1703) which he completed in 1699 with his dissertation De visionis sensu nobilissimo, ex camerae obscurae tenebris illustrato.
He continued his studies on physics and mathematics at the university of Halle where he also learned French and Italian.
---