Image temps
Gregor Gaida
Ward Shelley Homepage-Mozilla Firefox
Rencontres : Des rencontres avec les acteurs du monde de l'art-Mozilla Firefox
Since graduating from the Royal College of Art in 2006, Bridgland has used a diverse range of materials and working methods to pursue an incisive and often witty exploration of distinctively British sentiments, externalising the underlying sense of loss and nostalgia that permeates our memories. Vignettes of British back-packer's holidays, old-fashioned bus-tours, and childhood seaside breaks that figure strongly in his visual repertoire are often tinged with this feeling of time having passed too quickly, our memories gradually fading. Twinned with this however, is an upbeat celebration of themes distilled from children's colouring books, paint-by-numbers kits, old public transport posters and kitsch postcards, which he imbues with the kaleidoscopic richness of carefully chosen and thickly applied primary colours.
Adam Bridgland | Multiples-Mozilla Firefox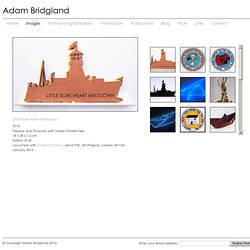 Product List — super superficial-Mozilla Firefox
В Контакте | Фотографии
agence Eureka, les images oubliées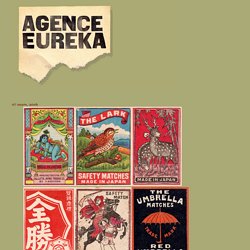 16 avril, 2014 Allumettes (Allemagne) Publié par pita ou franck à 7:00 PM Aucun commentaire: Libellés : automoto, matchbox label 14 avril, 2014
Carson Ellis | Portfolio | Ruthie in the Gunshed
Artworks – Memento
Dictyophora indusiata/ウスキキヌガサタケ)
Pink Tentacle
In November 1855, the Great Ansei Earthquake struck the city of Edo (now Tokyo), claiming 7,000 lives and inflicting widespread damage. Within days, a new type of color woodblock print known as namazu-e (lit. "catfish pictures") became popular among the residents of the shaken city. These prints featured depictions of mythical giant catfish (namazu) who, according to popular legend, caused earthquakes by thrashing about in their underground lairs. In addition to providing humor and social commentary, many prints claimed to offer protection from future earthquakes. 1.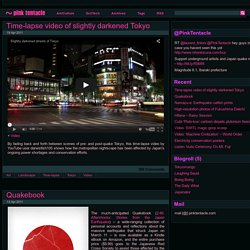 "-L'expo du tampographe, là, on la lui renvoie, faut l'emballer? -Nan mais c'est bon, c'est pas la peine, t'as qu'à scotcher ses trucs ensemble et les filer au transporteur sans protection, il doit s'en foutre, c'est un genre de punk à chien, tsé. -T'es certaine? Les transporteurs c'est des bourrins, ils balancent les colis sur le trottoir, ça risque de s'abîmer. -Mais non, bataille pas, scotche ce bordel et appelle UPS, je me tire en congés ce soir, il faut que tout soit fini aujourd'hui.
Le Tampographe Sardon - Mozilla Firefox
Retrogasm
YOUR MEAT IS MINE Yann black tattoo
It's been in the works for almost two months, but I'm very pleased to officially announce that Crappy Taxidermy is pairing up with Octopus Books to publish a humor book that will be released this upcoming Fall. If you would like to get updates about the book, titled Crap Taxidermy, subscribe here. Also, if anyone has any fantastic taxidermy shots they would like to submit to be considered for the book, don't be shy about shooting me a FB or Tumblr message. Photo via Pinterest
CRAPPY TAXIDERMY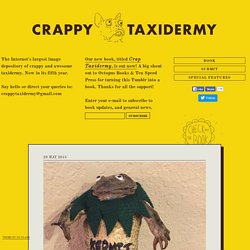 Johann Gabriel Doppelmayr (also spelled Doppelmair, Doppelmaier or Doppelmayer) was the son of the Nuremberg merchant Johann Siegmund Doppelmayr (1641-1686) and was born on 27 September 1677 (many early sources incorrectly give his year of birth as 1671). His father had an interest in applied physics and was one of the first to design a vertical vacuum air pump in Nuremberg. Doppelmayr enrolled at the gidiengymnasium in 1689 and after completing his studies in 1696 enrolled at the nearby university of Altdorf to study law which he completed in 1698 with a dissertation on the Sun. He then attended lectures on mathematics and natural philosophy by Johann Christoph Sturm (1635-1703) which he completed in 1699 with his dissertation De visionis sensu nobilissimo, ex camerae obscurae tenebris illustrato. He continued his studies on physics and mathematics at the university of Halle where he also learned French and Italian.
The Atlas Coelestis (1742) of Johann Gabriel Doppelmayr