Add-On Lists
Get flash to fully experience Pearltrees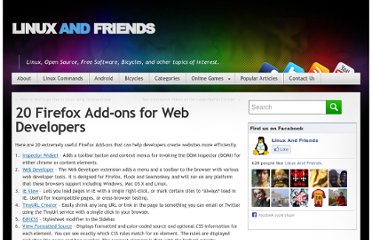 Here are 20 extremely useful Firefox Add-ons that can help developers create websites more efficiently. Inspector Widget – Adds a toolbar button and context menus for invoking the DOM Inspector (DOMi) for either chrome or content elements. Web Developer – The Web Developer extension adds a menu and a toolbar to the browser with various web developer tools.
Firefox is more than a browser. It's a toolbox, just waiting to be filled with tools.
Are you a web designer who wishes you could do more in one handy spot instead of having multiple programs open?