Webservice
From Eclipsepedia JPA provides an easy and powerful means to use Java objects to interact with a relational database.
Link/Examples/MOXy/JPA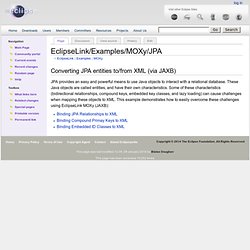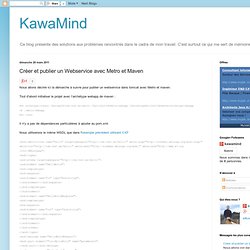 Nous allons décrire ici la démarche à suivre pour publier un webservice dans tomcat avec Metro et maven.
Créer et publier un Webservice avec Metro et Maven
Créer et publier un Webservice avec CXF et Maven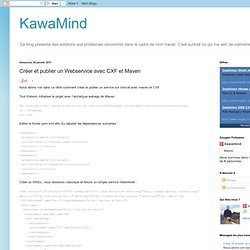 Nous allons voir dans ce billet comment créer et publier un service sur tomcat avec maven et CXF. Tout d'abord, initialiser le projet avec l'archetype webapp de Maven : mvn archetype:create -DgroupId=com.test.ws.cxf -DartifactId=cxf-webapp -DarchetypeArtifactId=maven-archetype-webapp cd .
Drop By! » Java Webservices – Relationship between JAX-WS, JAX-RS, Metro and Jersey
Have you ever wondered about the relationship of different actors within Java's Webservice Stack? I did. The key to the right answers you may find watching this list of Glassfish projects .
We Recommend These Resources Some years back I had to provide a wrapper around an EJB 3.0 remote service to come up with a simple web service project that would be deployed over Tomcat and accessed in a simple http way due to some accessibility issues. Now as I cannot reveal the actual requirement I implemented that time so here I am presenting a simple demo kind of service with following signature.
Creating and Deploying JAX-WS web service on Tomcat 6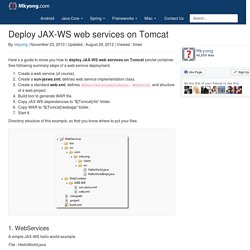 Deploy JAX-WS web services on Tomcat
Here's a guide to show you how to deploy JAX-WS web services on Tomcat servlet container. See following summary steps of a web service deployment. Create a web service (of course).
Paul Downey :: Best Practice for Web Services
It seems not a week goes by without some poor lost soul looking to me to help publish a Web service in a way which stands some chance of interoperating.
Best practices for Web services: Part 1, Back to the basics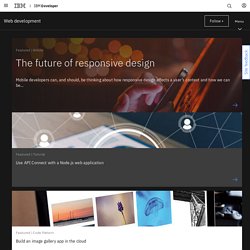 The cloud of technologies being developed to deliver on the promise of Web services has (in our opinion) finally reached a point of maturity that allows us to start moving beyond the initial hype and excitement into actual down-and-dirty implementation.
The correct handling of API versioning has been one of the most difficult issues faced by developers of distributed systems. Various schemes have been proposed, ranging from the laissez faire approach taken by CORBA to the stricter schemes used in DCOM.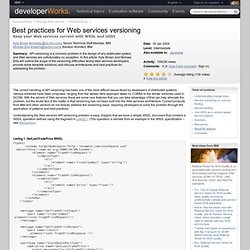 Best practices for Web services versioning