Funny
A paraprosdokian is a figure of speech in which the latter part of a sentence or phrase is surprising or unexpected in a way that causes the reader or listener to re-frame or re-interpret the first part. It is frequently used for humorous or dramatic effect. For this reason, it is extremely popular among comedians and satirists. I asked God for a bike, but I know God doesn't work that way. So I stole a bike and asked for forgiveness. Do not argue with an idiot.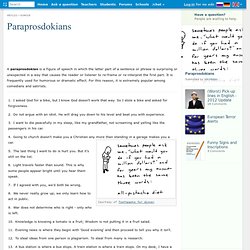 58757970108214016_ix84yePI_c.jpg (JPEG Image, 441 × 545 pixels)
unnamed pearl
Dont Move
"Torn" mime
Dec 13/11 The 40 Best Memes Of 2011 (38 pics) Scumbag Steve First World Problems Rebecca Black
The 40 Best Memes Of 2011 (38 pics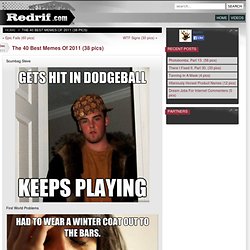 monkey busniss
Harry's wood
bfa1e42a504c48f8935719207c14c1a9.jpg (JPEG Image, 460 × 425 pixels)
Full of win - Facebook - Jan 17, 2012
Which is not a web browser?
Top 20 Funny Signs Of The Week
To The Death | Sep 10 '08
25 Awesome Ways to Break Bad News Slideshow
15 Funny Facebook Status Messages
the girl paradox
Cartoon Military/Infantry/Rangers/airforce shit