Alcohol
Jello Shots! This Post is ALL Mandi.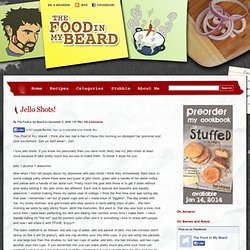 I think she has had a few of these this morning so disregard her grammar and over excitement. See ya next week! - Dan I love jello shots. if you know me personally then you have most likely had my jello shots at least once because ill take pretty much any excuse to make them. To break it down for you: Naughty Shirley Temple Jello Shots. Ingredients: Cherry jelly powder Orange jelly powder Maraschino cherries with stems* Lemon lime pop Vodka Grenadine (optional) Mix 1 cup of boiling water with the cherry jelly powder.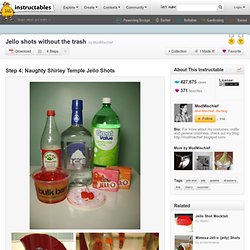 Damn Yeah Magical Glowing Cocktails! This drink isn't a figment of your imagination.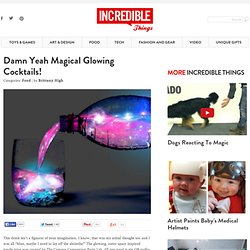 I know, that was my initial thought too and I was all "Man, maybe I need to lay off the absinthe!" The glowing, outer-space inspired jungle juice was created by The Campus Companion Party Lab. All you need is gin OR vodka (choose gin if you really, really hate yourself), tonic water, Roses Mojito Passion OR Pink-Lemonade Concentrate, ice, and a black light. Chocolate Guinness Goodness Recipe at Epicurious. Editor's note: This recipe was developed by Shane Philip Coffey, the chef at Alias restaurant on New York City's Lower East Side.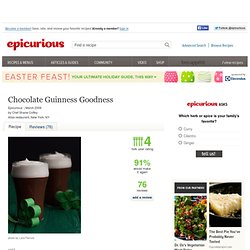 This rich and luscious dessert came about because I needed a special dessert for a St. Patrick's Day tasting menu. I was on a mission to use my favorite beer, Guinness, something I consider to be one of Ireland's gifts to the world. Top 10 Drinking Games for 2 People. Nutella Shots. Guess what I am drinking tonight?
Ingredients & Measurements: • 1 cup ice • ½ cup milk • 2 tablespoons Nutella • 1 shot Baileys or Frangelico Hazelnut liquor • 1 shot vanilla vodka. 1898646_460s.jpg (JPEG Image, 460 × 9230 pixels) - Scaled (6. How To Make Moonshine. 30 Drinks Every Bartender Should Know. So I have a new hire who is about to bartend her first bartending shift and I was about to e-mail her 30 drinks every bartender should know and looking for a list (so I wouldn't have to make it) and almost every list I found was absolutely ridiculous.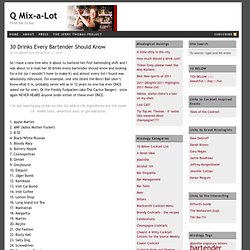 For example, one site listed the Bocci Ball (don't know what it is, probably never will as in 12 years no one has ever ONCE asked me for one). Or the Freddy Fudpacker (aka The Cactus Banger) – once again NEVER HEARD anyone order either of these ever ONCE. I'm not naming any drinks on this list where the ingredients are the name i.e. vodka tonic, amaretto sour, or gin and juice. 1. Extratasty - Get your booze on! - Drink of the day is "Creole Mama" by [the pirate] | 02/13/12. The Punch That Gets Your Whole Party 'faced. The 10 manliest cocktails (and how to make them)
---