Ideas & Tools
Get flash to fully experience Pearltrees
One of the best things about my new job is that I get to teach my own class, grade 6 MYP Technology (my favorite class to teach, actually). As much as I love coaching and working with lots of different teachers and students, there is just something special about having your own class to work with. And in this case, I get the best of both worlds: teaching my own classes and coaching! In addition, since this is the first year of our MYP implementation, I have a clean slate to develop the entire MYP technology curriculum. Since there was no existing curriculum, and no formal technology classes at the elementary level, I wasn't sure exactly where I should start with this new class. I want to make sure that we take advantage of all the amazing resources we have at our disposal (not to mention the faaast internet connection), enhance what the school is already doing and continue to expand the range of online experiences for both student and teachers.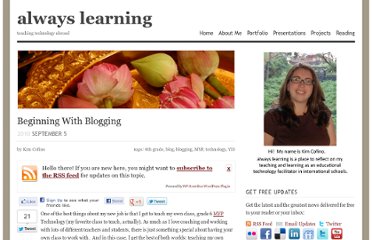 Cross-posted on the Tech Learning Advisors Blog Only one month into the new school year and almost every middle school student has their own blog hosted at ISB (plus all of our grade 5s, and quite a few high school students)! Thanks to our fantastic middle school Humanities and Modern Language teachers, who spent their class time helping students create their own blog, we are off and running in record time! In fact, the process was so easy that almost all of our students had their blogs set up before we formalized our student blogging guidelines.
Gone are the days, when you had to learn HTML code, know how to upload via FTP (File Transfer Protocol) and create images in Photoshop in order to design a website. Nowadays, you can use a blog (platform) as an easy tool to create and update a website. Choose from thousands of template themes available online (for free) to have a well designed and good looking presence on the web. A blog platform makes it easy to update your classroom website by simply uploading one post after another. In previous blog posts, I talked about a Blogging Unit, a plan to start blogging with your students.
Image by Shanubi Nottingham High has this new wordpress multi user site, created to enable us to develop blogs for various classes and activities. Sam and Kerry have put together some ideas and what we think are useful Web 2.0 apps which could assist in generating ideas for class blogs. The starting point was Tom Barrett's (@tombarrett) blog http://edte.ch . Tom is a primary school Deputy Head from Nottinghamshire with a passion for technology.
Benson Class Blogs & Wikis