Fantasy Baseball
League Home | MLB.com: Fantasy Baseball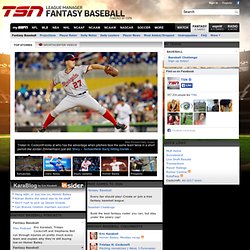 Fantasy Baseball - Free Fantasy Baseball Leagues, Rankings and m
Sign In or Register Shop Second Time Around Tristan H. Cockcroft looks at who has the advantage when pitchers face the same team twice in a short period like Jordan Zimmermann just did.
Fantasy Baseball Cafe
We hope you'll enjoy this site and make us your first choice for free tips, updates, discussion, and maybe even a bit of humor during the 2014 fantasy baseball season. Whether you're the commissioner of a long-running roto keeper league or looking for rankings for your very first draft, Fantasy Baseball Cafe will provide you with all the information you're looking for. At the Fantasy Baseball Cafe, you'll find features such as Cheat Sheets, weekly Sleepers, Articles from an outstanding lineup of baseball writers, Links to other fantasy baseball resources, free games such as Pick3, Lucky Ladders, Matchup Meltdown and Trivia Time Trial, and a whole lot more. Above all, we look forward to seeing you in our Fantasy Baseball Forums for talk about everything from the latest updates to rules issues. Oh yes - why call a fantasy baseball site a cafe?