Library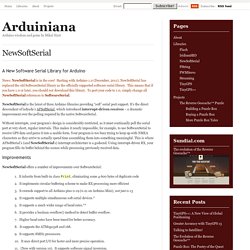 A New Software Serial Library for Arduino News: NewSoftSerial is in the core! Starting with Arduino 1.0 (December, 2011), NewSoftSerial has replaced the old SoftwareSerial library as the officially supported software serial library. This means that if you have 1.0 or later, you should not download this library.
NewSoftSerial | Arduiniana
Using Arduino, Firmata and processing together | BitRot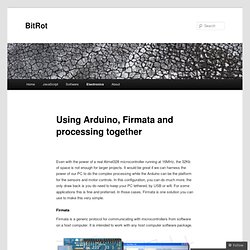 Even with the power of a real Atmel328 microcontroller running at 16MHz, the 32Kb of space is not enough for larger projects. It would be great if we can harness the power of our PC to do the complex processing while the Arduino can be the platform for the sensors and motor controls.
SpiRAM
rocketscream/Low-Power
We have just release the 1st revision of our low power library for Arduino. This is a simple and easy to use library that has the following features: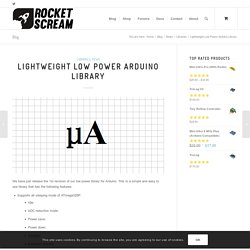 Lightweight Low Power Arduino Library | Rocket Scream
Submitted by dunk on March 23, 2010 - 6:30am.
Compiling with WebbotLib without using AVR Studio. | Member Robot Tutorials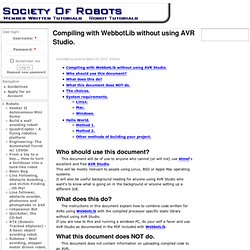 NewPing_v1.5.zip - arduino-new-ping - NewPing Library v1.5 - Fast ultrasonic Arduino library for the HC-SR04, SRF05, SRF06, DYP-ME007 & Parallax PING))) ultrasonic distance sensors
louismdavis/AZIP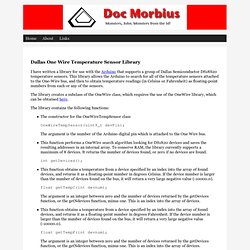 Dallas One Wire Temperature Sensor Library
Arduino Libraries
fakufaku/TokyoTime
A collection of contributed libraries.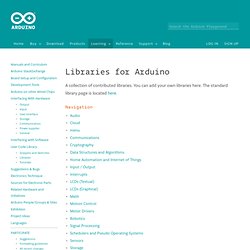 playground - LibraryList
sirleech/Webduino
tigoe
arduino/BtSerial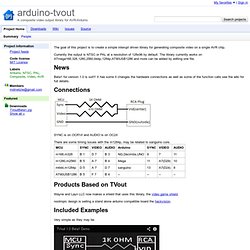 arduino-tvout - A composite video output library for AVR/Arduino
The goal of this project is to create a simple interupt driven library for generating composite video on a single AVR chip.
felis (Oleg Mazurov)
SdFat is an Arduino library that supports FAT16 and FAT32 file systems on standard and high capacity SD cards.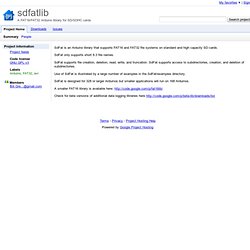 sdfatlib - A FAT16/FAT32 Arduino library for SD/SDHC cards
Note: Microbridge is provided as-is. I do not have the time to provide personal support.
microbridge - Android Debug Bridge (ADB) implementation for microcontrollers.
WebbotLib
C Library for Atmel AVR Processors