F-J
FairyLand Ball Joint Doll Shopping Mall
Ball jointed Doll Total Shop :::Iplehouse.net::
Welcome to impldoll
INFINiTI DOLL, The new world of Ball Jointed Dolls
Glorydoll-for happy your life
hujoo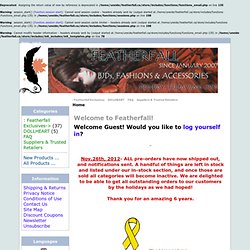 Clothing and Accessories for BJDs
Thank you, our wonderful customers, for all your support during this time. For those that have asked, we appreciate your wonderful notes and encouragement. We would encourage you all if so inclined to donate to your local cancer centres and societies, as you never know when it may afflict one of your own. Please note that Featherfall exclusives ( such as our Iruhi BJD) will not be available through any other suppliers once our store has closed down. We will be working with our suppliers to make this transition as easy as possible on suppliers and customers alike; we have now listed alternate retailers that carry our suppliers' products.
Fantasy Doll---FDoll.com
::FairyGarden:: DD-Anne's hand-made
I.O.S