Somalia News
Somalia - Google News
Welcome banadir.com - where news is always free
Riot in Dadaab Refugee Camp in Kenya Kills Two Two Somali refugees are dead and about a dozen injured after rioting yesterday at the Dadaab refugee complex In Kenya.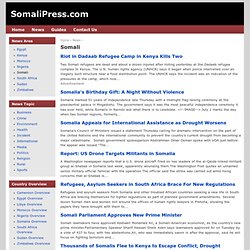 Somali | Somali Press
eng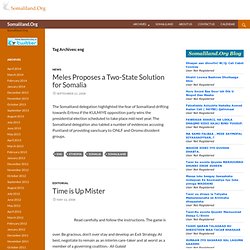 Meles Proposes a Two-State Solution for Somalia The Somaliland delegation highlighted the fear of Somaliland drifting towards Eritrea if the KULMIYE opposition party wins the presidential election scheduled to take place mid next year.
Home - Shabelle
www.somaliawatch.org
Somali Breaking News & Video Community
Madaxweynaha dowlada Soomaaliya Xasan Sheekh Maxamuud ayaa maanta xafiiskiisa wuxuu ku qaabilay wafdi ka socday dowlada dowlada Talyaaniga.
SNN News- Somali News Network
Home - Shabelle
Garowe Online - Somalia
Puntlandpost.com - All About Somalia and Puntland
Somalia News, Headlines and Latest Stories on Mareeg! News
Markacadey.net
The United Nations official leading the fight against sexual violence in times of conflict today voiced concern over reports that women and girls fleeing famine in Somalia were being raped or abducted and forced into marriage by bandits and other armed groups as they tried to reach refugee camps in Kenya. "During the long and perilous journey from Somalia to the camps in Kenya, women and girls are subjected to attacks, including rape, by armed militants and bandits," said Margot Wallström, the Special Representative of the Secretary-General on Sexual Violence in Conflict, in a statement. "Once they cross the Somalia-Kenya border or reach Dadaab - the world's largest refugee settlement - their hopes of finding a safe haven are often overshadowed by new dangers and hardships, including the risk of rape," she said.
Somalia: UN Official Voices Concern Over Reports of Rape of Women Fleeing Famine