Somalia News
Somalia - Google News
Welcome banadir.com - where news is always free
Riot in Dadaab Refugee Camp in Kenya Kills Two Two Somali refugees are dead and about a dozen injured after rioting yesterday at the Dadaab refugee complex In Kenya. The U.N. human rights agency (UNHCR) says it began when police intervened over an illegally built structure near a food distribution point. The UNHCR says the incident was an indication of the pressures at the camp, which now... Advertisement Somalia's Birthday Gift: A Night Without Violence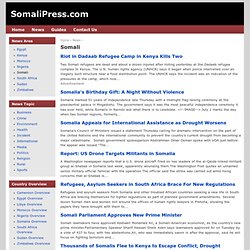 Somali | Somali Press
eng
The Somaliland delegation highlighted the fear of Somaliland drifting towards Eritrea if the KULMIYE opposition party wins the presidential election scheduled to take place mid next year. The Somaliland delegation also tabled a number of evidences accusing Puntland of providing sanctuary to ONLF and Oromo dissident groups. Read carefully and follow the instructions. The game is over. Be gracious, don't over stay and develop an Exit Strategy. At best, negotiate to remain as an interim care-taker and at worst as a member of a governing coalition.- Ali Gulaid
Published on April 13, 2014 No Comments April 13, 2014 Markasta iyo goobkasta halkan kala soco wararka idaacada ... Kismaayo (Sh M Network)--Ra'iisul Wasaaraha Xukuumadda Federaalka Soomaaliya ... Nairobi (Sh M Network)--Hay'adda Qaxootiga adauunka ee marka ... Muqdisho, 13 April 2014 – Maddaxweynaha Jamhuuriyadda Federaalka ...
Home - Shabelle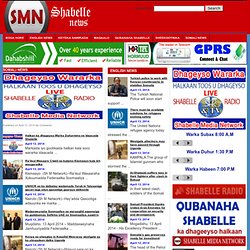 www.somaliawatch.org
Somali Breaking News & Video Community
Madaxweynaha dowlada Soomaaliya Xasan Sheekh Maxamuud ayaa maanta xafiiskiisa wuxuu ku qaabilay wafdi ka socday dowlada dowlada Talyaaniga. Kulankooda kadib ayaa Madaxweyne Xasan Sheekh Maxamuud iyo Wasiirka arimaha More... Somalia's fishermen have long struggled to make a living, in the face of piracy and illegal fishing by foreign trawlers. Increased demand for fresh fish is making the industry lucrative once more, but fishermen More...
SNN News- Somali News Network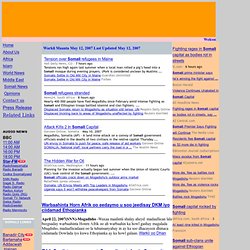 Mar 24 (Garowe Online) - 's interim Prime Minister, Prof Ali Mohamed Gedi, will represent his country at an Arab Summit scheduled to open in next week. Premier Gedi and a government delegation flew from on Saturday en route to , government sources said. Belarus says missile caused Somali plane crash MINSK, March 24 (Reuters) - Belarus said on Saturday a missile caused a plane crash in Somalia in which 11 of its citizens were killed. "The plane was shot down," Transport Ministry spokeswoman Kseniya Perestoronina said. Somali govt says plane crash looks like accident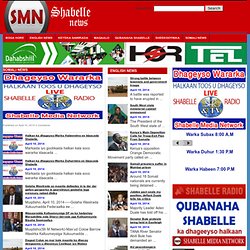 Published on April 10, 2014 2 Comments April 10, 2014 Markasta iyo goobkasta halkan kala soco wararka idaacada ...
Home - Shabelle
Garowe Online - Somalia
Somalia: British, French nationals killed in shooting at airport [Report] GALKAYO, Somalia April 8, 2014 (Garowe Online) Apr 8, 2014 Somalia: Briton, French gunned down at Galkayo airport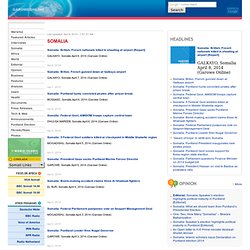 Puntlandpost.com - All About Somalia and Puntland
Somalia News, Headlines and Latest Stories on Mareeg! News
Markacadey.net