Somalia News
Somalia - Google News
Welcome banadir.com - where news is always free
Riot in Dadaab Refugee Camp in Kenya Kills Two Two Somali refugees are dead and about a dozen injured after rioting yesterday at the Dadaab refugee complex In Kenya.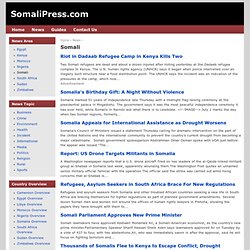 Somali | Somali Press
eng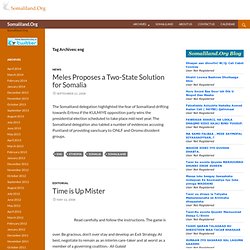 Meles Proposes a Two-State Solution for Somalia The Somaliland delegation highlighted the fear of Somaliland drifting towards Eritrea if the KULMIYE opposition party wins the presidential election scheduled to take place mid next year.
Published on January 8, 2014 12 Comments January 8, 2014
Home - Shabelle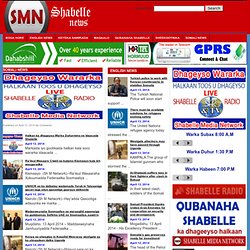 www.somaliawatch.org
Somali Breaking News & Video Community
Madaxweynaha dowlada Soomaaliya Xasan Sheekh Maxamuud ayaa maanta xafiiskiisa wuxuu ku qaabilay wafdi ka socday dowlada dowlada Talyaaniga.
SNN News- Somali News Network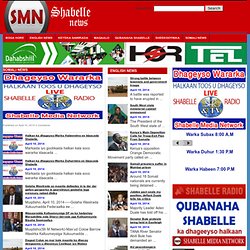 Published on January 5, 2014 No Comments January 5, 2014 Muqdisho (Sh M Network)—Gudoomiye ku xigeenka dhanka Amaanka ...
Home - Shabelle
Garowe Online - Somalia
Somalia: Former Cabinet minister elected as new Puntland Parliament Speaker GAROWE, Somalia Jan. 4, 2014 (Garowe Online) Jan 4, 2014 Somalia: Al Shabaab militia kidnaps WHO official in Bay region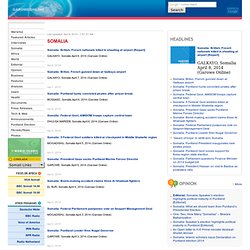 Puntlandpost.com - All About Somalia and Puntland
Somalia News, Headlines and Latest Stories on Mareeg! News
Markacadey.net