Asian (General) News
China.org.cn - China news, weather, business, travel & language courses. Radio Japan. Beijing Review. NHK WORLD English. Hip Hong Kong | The Best URBAN CONTEMPORARY ART GALLERIES IN HONG KONG. MADHOUSE GALLERY G/F & Mezzanine 8-10 Kau U Fong NoHo, Central 2815-6007www.madhouse.com.hk Hiphongkong's favorite art gallery is the relatively new Madhouse Contemporary Art Gallery.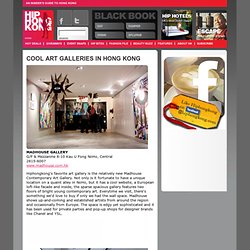 Not only is it fortunate to have a unique location on a quaint alley in NoHo, but it has a cool website, a European loft-like facade and inside, the sparse spacious gallery features two floors of bright young contemporary art. Taiwan Today. The Korea Herald. Taipei Times - Taipei Times News. The Seoul Times. Chinadaily US Edition.
---