Pós-Graduação PGTIAE
MATERIAIS INTERESSANTES EM IAE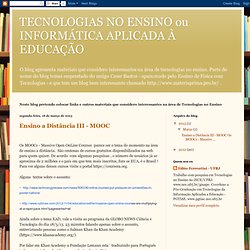 Muito tem sido discutido sobre as novas possibilidades abertas pelo uso da internet/www como mecanismo de comunicação entre os indivíduos levando-nos a uma verdeira aldeia global. Os textos abaixo apresentam informações sobre alguns videos no Youtube que tratam do tema. Alguns são videos do projeto TED - Ideas woth spreading. - Jimmy Wales, Wikipedia, Learning Without Frontiers, London (Youtube, Jan/2011) (29min) (legendado em inglês).
Pedagogia de Projetos
Redu | A Rede Social Educacional
"Os desafios para as escolas do setor privado" Entrevista no Caderno de Educação da Folha Dirigida(publicação da edição de 12 a 18 de outubro de 2013)Clique AQUI Valorização da Educação Num momento tão conturbado, em que os professores são tratados com autoritarismo e desrespeito, não devemos esmorecer e, sim, seguir em frente, com ânimo renovado, especialmente nas EscolasRio que, certamente, tem cada vez mais um importante papel a desempenhar. A partir da promulgação da Lei de Diretrizes e Bases, no final de 1996, o universo educacional foi tomado por uma série de discussões. A aplicação da Lei no cotidiano das escolas levantou muitas dúvidas que precisavam ser esclarecidas com agilidade e segurança.
EscolasRio
Microsoft Mathematics provides a graphing calculator that plots in 2D and 3D, step-by-step equation solving, and useful tools to help students with math and science studies. Note: There are multiple files available for this download. Once you click on the "Download" button, you will be prompted to select the files you need.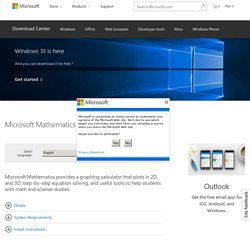 Dodecaedro
Curso De Leitura Dinamica.pdf
Computadores na Sociedade do Conhecimento
http://www.deoos.tv/2011/10/fantastic-flying-books-of-mr-morris.
The Forming – Storming – Norming – Performing model of group development was first proposed by Bruce Tuckman in 1965, who maintained that these phases are all necessary and inevitable in order for the team to grow, to face up to challenges, to tackle problems, to find solutions, to plan work, and to deliver results. This model has become the basis for subsequent models. Tuckman's group development model[edit] Forming[edit] In the first stage of team building, the forming of the team takes place.