Personal Branding
Having an amazing Facebook Timeline Banner for your Business Page is a very important part of your social media branding.
3 Personal Branding Tips For Your Facebook Timeline | Fiona McEachran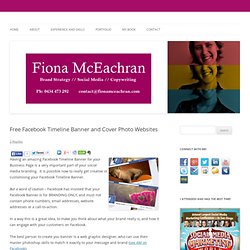 Personal branding is the process of developing a "mark" that is created around your personal name or your career. You use this "mark" to express and communicate your skills, personality and values.
What is Personal Branding?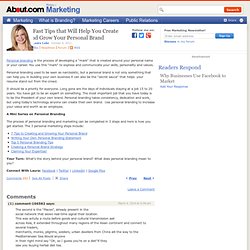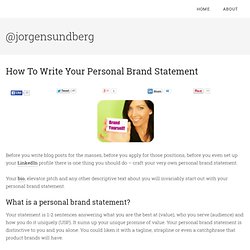 Before you write blog posts for the masses, before you apply for those positions, before you even set up your LinkedIn profile there is one thing you should do – craft your very own personal brand statement.
How To Write Your Personal Brand Statement | jorgensundberg
How to Craft Your Personal Brand Statement
There is an ongoing debate about the need for a business brand versus a personal brand. After reviewing current literature and crowdsourcing colleagues, the consensus seems to be that you need both – a clearly defined business brand and a compelling personal brand. A personal brand is essential from the start, but what is the process for crafting a personal brand statement when you are in the introductory stages or even the launch stage of a new business?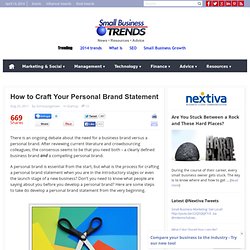 After polling several well-educated young professionals about their personal brand statement, I realized that there are still many individuals who don't understand how to use personal branding.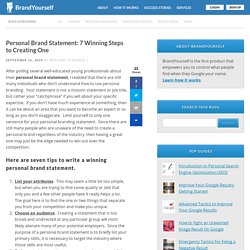 Personal Brand Statement: 7 Winning Steps to Creating One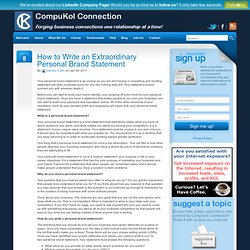 How to Write an Extraordinary Personal Brand Statement
Your personal brand statement is as unique as you are and having a compelling and exciting statement will open business doors for you like nothing else will. Your statement should connect you with whoever reads it.
How to Craft Your Personal Brand Statement
Why Personal Branding? Job Security
9 Reasons Why Your Image Is Everything
Personal Branding - Is Red the Color of Your Brand?
TEDxCMU -- Jacob Cass -- Building a Personal Brand
[Branding] Is your bio tarnishing your brand [reputation]?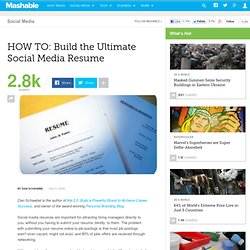 Dan Schawbel is the author of Me 2.0: Build a Powerful Brand to Achieve Career Success, and owner of the award winning Personal Branding Blog. Social media resumes are important for attracting hiring managers directly to you, without you having to submit your resume, blindly, to them. The problem with submitting your resume online to job postings is that most job postings aren't even vacant, might not exist, and 80% of jobs offers are received through networking. With a social media resume, you're able to paint a completely different portrait of yourself for hiring managers and customize it to reflect your personal brand.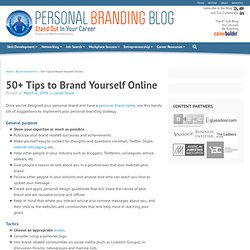 50+ Tips to Brand Yourself Online
Once you've designed your personal brand and have a personal brand name, use this handy list of suggestions to implement your personal branding strategy. General purpose Show your expertise as much as possible.Publicize your brand-related successes and achievements.Make yourself easy to contact for thoughts and questions via email, Twitter, Skype, internet messaging, etc.Help other people in your industry such as bloggers, Twitterers, colleagues, advice seekers, etc.Give people a reason to talk about you in a positive way that also matches your brand.Follow other people in your industry and anyone else who can teach you how to spread your message.Create and apply personal design guidelines that will share the values of your brand and are reusable online and offline.Keep in mind that where you interact online also conveys messages about you, and then stick to the websites and communities that will help most in reaching your goals. Tactics
A Guide On How To Build A Proper Brand On Facebook
Dan Schawbel is the author of Me 2.0: Build a Powerful Brand to Achieve Career Success, and owner of the award winning Personal Branding Blog. In the past few years personal branding has been discussed exhaustively throughout the Net. The difference between today and over ten years ago when it was first mentioned by Tom Peters, is the rise of social technologies that have made branding not only more personal, but within reach. From the corporate brand (BMW), to the product brand (BMW M3 Coupe) and down to the personal brand (car salesman), branding is a critical component to a customer's purchasing decision.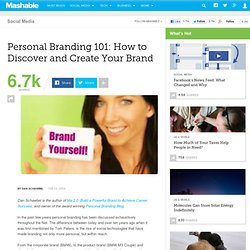 inShare14 In business, we learn through everything we do and it influences all that we try and repeat. When something new comes along, we tend to view it with either enthusiasm or skepticism, or in some cases a bit of both. Such is true with the advent of Social Media. As business, marketing and service leaders, we face new challenges.
7 Steps to Creating and Cultivating a Brand in Social Media
This blog has been inspired by Jan who contacted me through Twitter saying, "Would I think about doing an article on "Blogging For Dummies".
Blogging For Dummies – An Opportunity For Personal Branding « Je
The 7 Deadly Sins of Personal Branding
Everyone's personal brand is different, even if by the tiniest subtlety. So, there are very few "sins" of personal branding that universally apply to all. But, I'm confident that the seven personal branding sins listed below can be applied to everyone – including you (but let's hope they don't)!