Photos and Editing
Welcome! Need a quick fix for that photo? With pixer.us you can edit your photos online using only your browser. Upload your photo using the "load image" form.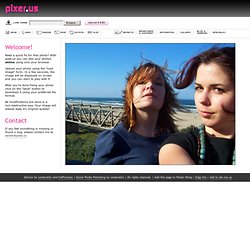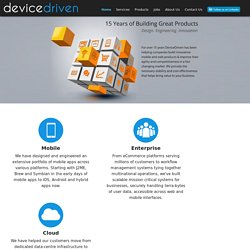 Conceptualizing, creating and sustaining world class products in the web and mobile space, DeviceDriven is well able to deliver reliably to an evolving product roadmap. Know More... We have helped our customers move from dedicated data-centre infrastructure to hybrid and cloud-only configurations, providing them with the agility, scalability, security and cost-effectiveness that make sense for their web services. Businesses today need to have very effective and high-quality marketing strategies to create awareness among and engage their online customers. Our Online Marketing team create and execute on marketing campaigns designed specifically for your business.
Fotonea is a fun web site where you can easily create a collage from pictures. Just upload few images, choose background and click "create". You can move/rotate/resize your pictures as you wish, add frames, add texts and then save on your computer, or share with friends. Try out the sample collage. It's free for up to 10 photos, and it's only 1$ for up to 20 photos (valid for 24h) Buy now You can upload up to 10 images, each not larger than 2 MB or 3100px.
Fotonea.com - Collage made simple. How to create a collage onlin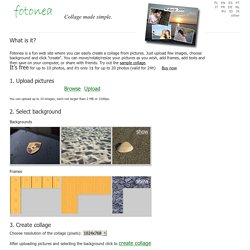 Custom Photo Books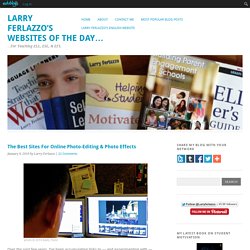 Over the past few years, I've been accumulating links to — and experimenting with — various online photo editors and sites for photo effects. There are certainly a zillion of them out there. I finally decided it was time to narrow all the links down into some kind of "The Best…" list, and have divided this post into two sections.
Xe-IMG Image Editor V3 - Desktop WIN/MAC Photo Image Editor - fr
As you know, Adobe Photoshop is used for picture editing, but it's hard to do for unprofessional and takes times, so let me introduce online free and easy method for adding photo frames, Funny pictures effects, picture trims and Convert your pictures into shapes etc. Here are the free online picture edition websites for you. 1.
E Learning System: 5 Free online sites to Make Funny Picture, ad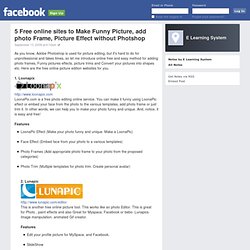 Online Photo Editing, Online Photo Sharing | Photoshop.com
21 Fantastic Examples Of Brilliant Photography With Humor @ Smas
Apollo - easy online image proofing - documents, graphic designs