eLearning
Elearning.
eLearning Readings. Thebizcats. E Learning Sites. 35+ Educational Games and Games Re. 1.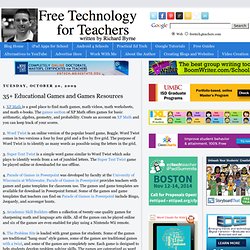 XP Math is a good place to find math games, math videos, math worksheets, and math e-books. The games section of XP Math offers games for basic arithmetic, algebra, geometry, and probability. Web Page Builders.
Teacher Resources. Education World® : Site Reviews Center : Archives : Students. Power League | Home. 5 Superb Social Media Tools for Musicians. Zach supervises social media strategy at Martin|Williams Advertising in Minneapolis, MN and runs 808 Management, a consultancy for independent artists.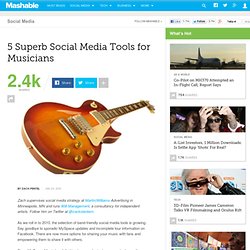 Follow him on Twitter at @zackolantern. As we roll in to 2010, the selection of band-friendly social media tools is growing. 50 Free Online Educational Games That Are More Fun Than You'd Th. Who knew that learning could be so much fun?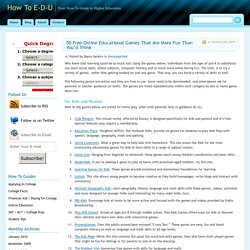 Using the games below, individuals from the ages of pre-K to adulthood can learn social skills, school subjects, computer literacy and so much more while having fun. The trick, is to try a variety of games, rather than getting hooked on just one game.
Blogs and Wikis. Online Learning: Reaching Out to the Skeptics - Advice - The Chr. By Thomas H.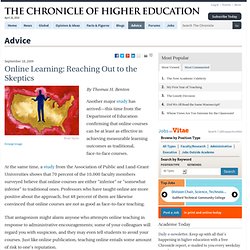 Benton Another major study has arrived—this time from the Department of Education confirming that online courses can be at least as effective in achieving measurable learning outcomes as traditional, face-to-face courses. At the same time, a study from the Association of Public and Land-Grant Universities shows that 70 percent of the 10,000 faculty members surveyed believe that online courses are either "inferior" or "somewhat inferior" to traditional ones. Professors who have taught online are more positive about the approach, but 48 percent of them are likewise convinced that online courses are not as good as face-to-face teaching.
That antagonism might alarm anyone who attempts online teaching in response to administrative encouragements; some of your colleagues will regard you with suspicion, and they may even tell students to avoid your courses.
---