"oh
Smell the lemon - Lounge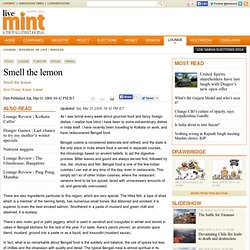 Updated: Sat, Mar 01 2008. 04 42 PM IST As I wax lyrical every week about gourmet food and fancy foreign dishes, I realize how blind I have been to some extraordinary dishes in India itself. I have recently been travelling to Kolkata on work, and have rediscovered Bengali food. Bengali cuisine is considered elaborate and refined, and the state is the only place in India where food is served in separate courses, the chronology based on ancient beliefs, to aid the digestive process. Bitter leaves and gourd are always served first, followed by rice, dal, chutney and fish. Bengali food is one of the few Indian cuisines I can eat at any time of the day, even in restaurants.
Speciality Restaurants - Home
All India Site - Recipes Index
Calypso
Just got back from a trip to England and an interesting thing happened to me in Heathrow Airport. I found myself standing next to someone very famous. Now, I am not a naturally star-struck kind of person. I have rubbed shoulders with a few semi-famous folk in the past and have never been either fazed or sycophantic.