Nifty
Ben-Yakar Group : Femtosecond Laser Assisted Biophotonics
Parallels is a worldwide leader in virtualization and automation software that optimizes computing for consumers, businesses, and Cloud services providers across all major hardware, operating systems, and virtualization platforms. For the Cloud, Parallels automation and virtualization software enables cloud services providers to rapidly and profitably deliver the widest range of cloud services that small businesses want and need. Our software includes key building blocks of cloud service delivery - self service control panels, billing, cloud service provisioning and virtualization. We enable the delivery of all types of services that small businesses need - shared web hosting and web applications, messaging and collaboration services, virtualized infrastructure services and thousands of other applications. Our Automation products allow businesses to optimize their systems to maximize profit.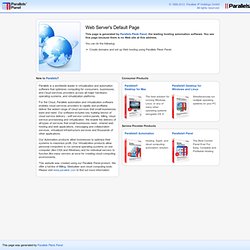 Welcome | BeeQuu
Appletons' Cyclopædia of American Biography (1900, volume 5) Appletons' Cyclopædia of American Biography is a six-volume collection of biographies of notable people involved in the history of the New World. Published between 1887 and 1889, its unsigned articles were widely accepted as authoritative for several decades.
Appletons' Cyclopædia of American Biography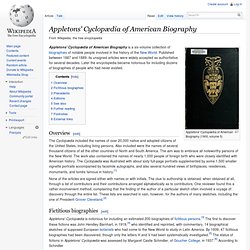 Curriculum | SparkTruck
The largest hoard of Anglo-Saxon gold ever found. Discover More Donate Today Videos Introduction into the Staffordshire Hoard Grouping Exercise This video shows Curator David Symons introducing the Staffordshire Hoard… Staffordshire Hoard Grouping Exercise - Timelapse This time-lapse video shows the Hoard team setting up for… 3D Laser Scanning the Staffordshire Hoard In this video Keith Adcock from the School of Jewellery,… More videos...
Staffordshire Hoard | The largest hoard of Anglo-Saxon gold ever found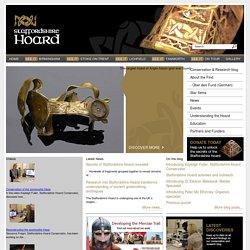 Brainormous.com
Tag clouds are those boxes of words that you sometimes see on blogs and social networking websites. The words are a collection of the words most commonly used in whatever parameters set forth by the tag cloud. For example, you might make a tag cloud of all of the most popular words used in your blog posts in the past month. Some of the words are shown in bigger text or different colors than the others which represents the fact that those words are used more often than the on the other words on the list.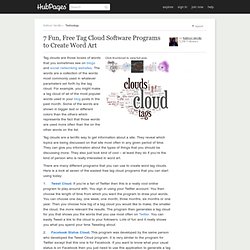 Educational Toys, Learning Toys, Games for Kids | Museum Tour