Technology
Get flash to fully experience Pearltrees
J'étais le mois dernier invité à Montréal pour donner une conférence sur l'avenir du web (le support est disponible ici : A quoi ressemblera le web de demain ). Un sujet périlleux, car il est toujours difficile de faire le bon dosage entre anticipation (les tendances qui vont se concrétiser l'année prochaine) et futurologie (ce que nous devions être en mesure de faire dans 10 ans si le rythme d'innovation se poursuit). Je me suis tout de même prêté volontiers à cet exercice de style, car les ingrédients du web de demain sont déjà là . Comprenez par là qu'en décortiquant les bons signaux, vous pouvez avoir une vision assez fiable de ce à quoi vont ressembler les usages en 2015.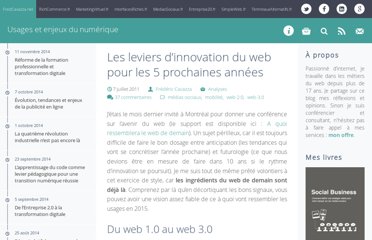 Few people understand the location industry better than Jay Adelson and Jeffrey Kalmikoff, CEO and VP of Product, respectively, at SimpleGeo . Over a year ago I was pitched SimpleGeo, and I passed because, at the time, the founders were creating some kind of smartphone game. In the process of building this product, they discovered that there was a huge market need for a backend supplier of location data. "We're moving from location being a novelty to where location is a layer, like social," says Adelson. Now SimpleGeo powers location features for countless apps, and the company has hoarded some of the industry's top talent at their digs in San Francisco's SoMa neighborhood.
(photo : , flickr, licence C, lucamascaro) Une formation sans leçons, sans examens, sans notes mais avec de vrais résultats. Impossible ?