Christopher Hitchens
OK! You can now submit your video to the Hitchens project. Here's how. : atheism. Hitchenschannel's Channel. If there were any doubts about writer and general provocateur Christopher Hitchens ability to pull a crowd, they were entirely dispelled by the sold-out opening night of the first ever Festival of Dangerous Ideas.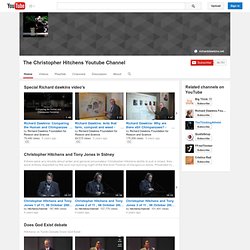 Presented by the Sydney Opera House and the St James Ethics Centre, the Festival brought together some of the more controversial thinkers from Australia and around the world. Hitchens's keynote address, followed by a discussion with our own Tony Jones, was an expansion on his bestselling, "God is Not Great: Religion Poisons Everything". Hitchens was at his polemical best, delivering a beautifully constructed speech supporting his argument that religion is not only completely implausible, but often actively destructive. Christopher Hitchens's other books include "Letters to a Young Contrarian", "Why Orwell Matters" and "The Missionary Position: Mother Theresa in Theory and Practice. " CEHitchens33's Channel. Upload Subscription preferences Loading...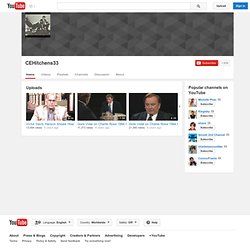 Christopher Hitchens Dispels Ronald Reagan Greatness Myths(1996) The Christopher Hitchens Web. WhitePagesGoesGreen.org by YellowPagesGoesGreen.org (Yellow Pages Directory Inc.) is a leading online directory allowing users to search an online database and telephone directory for all telephone numbers in the USA.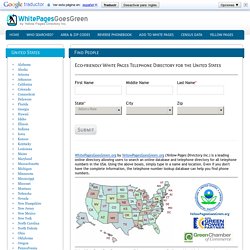 Using the above boxes, simply type in a name and location. Even if you don't have the complete information, the telephone number lookup database can help you find phone numbers. Using WhitePagesGoesGreen.org, you'll be on your way to finding residential phone numbers and connect with the person you're looking for.
The good news is, even if you don't have the full details, our telephone number lookup can help you find any phone number in the USA. Christopher Hitchens. Christopher Eric Hitchens (13 April 1949 – 15 December 2011) was a British-American[2][3] author, polemicist, debater, and journalist.[4] Hitchens contributed to New Statesman, The Nation, The Atlantic, The London Review of Books, The Times Literary Supplement and Vanity Fair.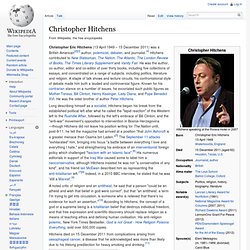 He was the author, co-author, editor and co-editor of over thirty books, including five collections of essays, and concentrated on a range of subjects, including politics, literature and religion. A staple of talk shows and lecture circuits, his confrontational style of debate made him both a lauded and controversial figure. Known for his contrarian stance on a number of issues, he excoriated such public figures as Mother Teresa, Bill Clinton, Henry Kissinger, Lady Diana, and Pope Benedict XVI.
He was the older brother of author Peter Hitchens. Christopher Hitchens.
Die Antwoord
---