Elephant on Strings
The Elephant in the Circus. Introduction ¶ This is a story that has become an Internet meme, and that search engines are unable to find a definitive source of.
So I'm writing it here for posterity. The Elephant and the Chain – What's Holding You Back? « Better Life Coaching Blog. When an elephant is young, if a trainer puts a chain around its leg and restrains it from moving far, the young elephant will initially try to escape.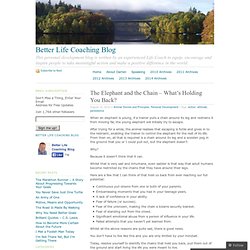 After trying for a while, the animal realises that escaping is futile and gives in to the restraint, enabling the trainer to control the elephant for the rest of its life. From then on, all that is required is a chain around its leg and a wooden peg in the ground that you or I could pull out, but the elephant doesn't. Why? Because it doesn't think that it can. The Elephant and The Chain | Why Do I Do What I DON'T Want to Do?
I was looking through some pictures earlier for my new website and came across a shot of an elephant's leg chained to a stake.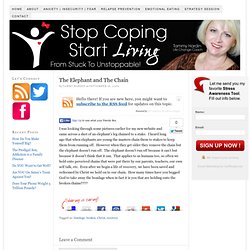 I heard long ago that when elephants are young the masters chain them to stakes to keep them from running off. However when they get older they remove the chain but the elephant doesn't run off. Training Circus Elephants. Blind Men & the ElephantWe are the Doggies that never give up!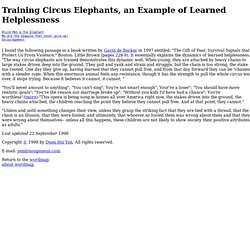 Encouragement I found the following passage in a book written by Gavin de Becker in 1997 entitled: "The Gift of Fear, Survival Signals that Protect Us From Violence," Boston: Little Brown (pages 228-9). It essentially explains the dynamics of learned helplessness. Are you like an elephant with string around your leg? Guest article By Peter Carruthers In Burma elephants are used for lugging trees about.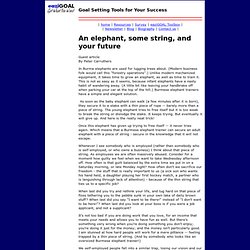 (Modern business folk would call this "forestry operations".) Unlike modern mechanized equipment, it takes time to grow an elephant, as well as time to train it. This is not as easy as it seems, because infant elephants have a nasty habit of wandering away. (A little bit like leaving your handbrake off when parking your car at the top of the hill.) AC/DC - Thunderstruck Lyrics.