Education
Kids Make Music Online. Classics for Kids. Introduction This site is designed to help you use classical music as part of your daily classroom activities.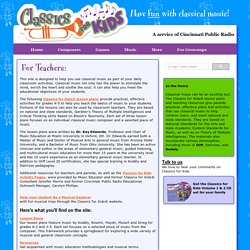 Classical music not only has the power to stimulate the mind, enrich the heart and soothe the soul; it can also help you meet the educational objectives of your students. Register with us to receive updated information about and send us your feedback and suggestions. Once you register, you will be sent a Classics for Kids activity book which can be printed in quantity and used in a variety of ways. The following Classics for Kids® lesson plans provide practical, effective activities for grades K-5 to help you teach the basics of music to your students. The Kennedy Center's Arts Education Network. Morton Subotnick's Creating Music. Music Tech Teacher.
My Music Class. Chordbook.com - Learn Guitar Chords, Scales, Guitar Tuner. Children's Music Classes- Toddler, Preschooler, Infant Music Instruction - KinderMusik.com. Musikgarten - Teaching Music, Understanding Children - Greensboro NC. Dalcroze Society of America - Welcome to the Dalcroze Society of America. Homepage | Suzuki Association of the Americas. The Organization of American Kodály Educators. Music Quizzes, Games and Worksheets. Africa - African Songs, Chants, and Games. Songs and dances are hard to transmit via the internet.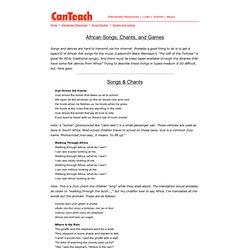 Probably a good thing to do is to get a tape/CD of African folk songs for the music (Ladysmith Black Mambazo's "The Gift of the Tortoise" is great for REAL traditional songs). And there must be video tapes available through the libraries that have some folk dances from Africa? Trying to describe these things in typed medium is SO difficult, but, here goes: My Library tagged music.
---