UNITED NATIONS
Special Rapporteur on Terrorism
Introduction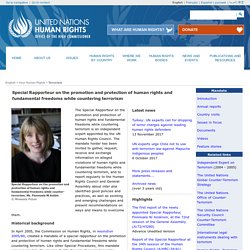 Martin Scheinin (born 4 November 1954) was the first United Nations Special Rapporteur on human rights and counter-terrorism. [ 1 ] He was selected for this position after serving for eight years (1997-2004) as member of the United Nations Human Rights Committee , the independent expert body monitoring states' compliance with the International Covenant on Civil and Political Rights .
Martin Scheinin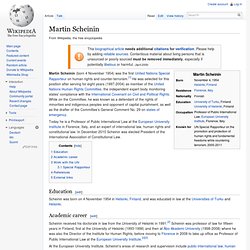 Guided by Security Council resolutions 1373 (2001) and 1624 (2005), the CTC works to bolster the ability of United Nations Member States to prevent terrorist acts both within their borders and across regions. It was established in the wake of the 11 September terrorist attacks in the United States. Mohammed Loulichki, Ambassador and Permanent Representative of Morocco, assumed the chairmanship of the Committee in January 2013.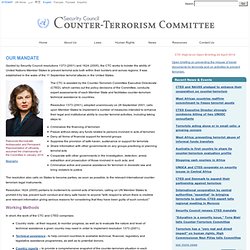 Counter-Terrorism Committee
United Nations Security Council Counter-Terrorism Committee
The Counter-Terrorism Committee is a subsidiary body of the United Nations Security Council .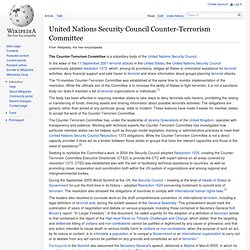 Counter-Terrorism Committee | International Counter-Terrorism Legal Instruments
Lessons Learned from Investigating Terrorism Incidents
Center on Global Counterterrorism Cooperation - Events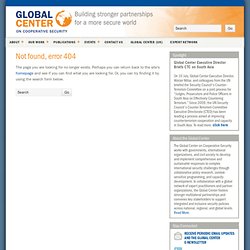 Mike Smith assumed the position of Executive Director of the UN Counter-Terrorism Committee Executive Directorate (CTED) on 19 November 2007. Prior to that he was Australia's Ambassador for Counter-Terrorism. Mr.
CTED Executive Director's Biographical Note > Mike Smith | UN Counter-Terrorism Committee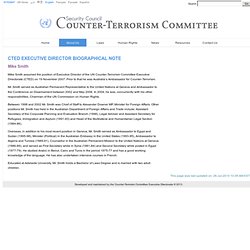 2011-01-presskit-en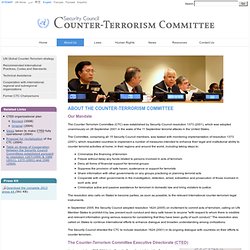 Our Mandate The Counter-Terrorism Committee (CTC) was established by Security Council resolution 1373 (2001), which was adopted unanimously on 28 September 2001 in the wake of the 11 September terrorist attacks in the United States.
About Us | UN Counter-Terrorism Committee