The #Occupy MOVEMENT
Bold Candidates vs. Boehner. Fighting for the 99%.
Customers Teach Bankers a Good Lesson
Occupy Wall St. Hip Hop Anthem: Occupation Freedom, Ground Zero And The Global Block Collective
Yelawolf gets socio-economical in a new interview with V6M TV as he speaks on Occupy Wall Street and the working class. Alabama rapper Yelawolf is the latest rapper to give his thoughts on the growing Occupy Wall Street movement. But rather than speak specifically on the movement the rapper expressed his thoughts on the working class and how important it is that they be protected. "The nine to five worker makes the world go round and if you don't protect them and really put them first you're fucking up the foundation. And if the foundation's fucked up the whole building's gonna fall down," Yelawolf explained to V6M .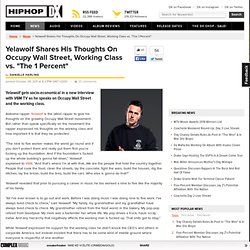 Yelawolf Shares His Thoughts On Occupy Wall Street, Working Class vs. "The 1 Percent"
#OccupyWallStreet 99% Movement Spreads Across America – Introducing OccupyTogether.org | AmpedStatus
Gregarius
Woah... (via Mining analyst ) Shut Down Freeport McMoRan!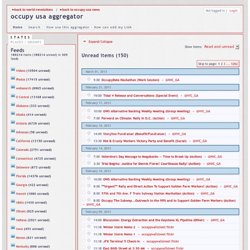 Agent Provocateur Tries to Setup Infowars Supporter at Dallas FED!
NEW YORK (Michelle Nichols) - An anti-capitalist group which sparked the Occupy Wall Street movement has called for global protests Saturday to demand G20 leaders impose a ``Robin Hood'' tax on financial transactions and currency trades. Canada-based Adbusters wants the Occupy Wall Street protest movement against economic inequality to take to the streets to call for a 1 percent tax on such deals ahead of a Nov. 3-4 summit of the Group of 20 leading economies in France. ``Let's send them a clear message: We want you to slow down some of that $1.3 trillion easy money that's sloshing around the global casino each day -- enough cash to fund every social program and environmental initiative in the world,'' the activist group said on its website, www.adbusters.org.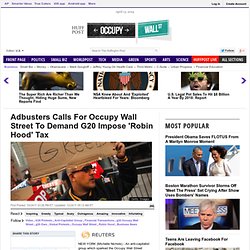 Adbusters Calls For Occupy Wall Street To Demand G20 Impose 'Robin Hood' Tax
Generation OS13: The new culture of resistance
US marine "why are you treating them like this"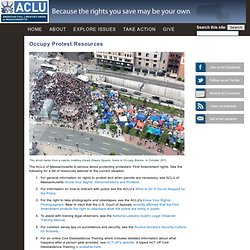 This photo taken from a nearby building shows Dewey Square, home to Occupy Boston, in October 2011. The ACLU of Massachusetts is serious about protecting protesters' First Amendment rights. See the following for a list of resources tailored to the current situation. For general information on rights to protest and when permits are necessary, see ACLU of Massachusetts' Know Your Rights: Demonstrations and Protests For information on how to interact with police see the ACLU's What to Do If You're Stopped by the Police For the right to take photographs and videotapes, see the ACLU's Know Your Rights: Photographers .
Occupy Protest Resources | ACLU of Massachusetts
Police go beserk on occupy Melbourne's peaceful protesters - Oct 21
Chemical Bomb Thrown into Occupy Maine Encampment
Occupying www.jpmorgan.com
'Occupy' Group To March In Hartford Friday Evening - Hartford Courant
3,000 protestors march towards Bank of America in Boston
Broadcast from #OccupyBaltimore
David Sirota trashes Fox News over OWS coverage
#OccupyKC [#OccupyMemorialDr - Wiki - #OccupyKC]
OCCUPY TORONTO OCT 15: Protesters Rise Up @ King & York
The occupy wall street protest from Pace University 10/1
Beastie Boys ft. Edwin Starr - War (in a world gone mad) 2.0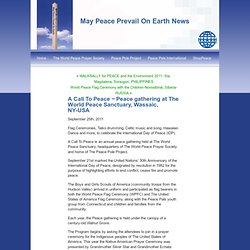 May Peace Prevail On Earth News » Blog Archive » A Call To Peace ~ Peace gathering at The World Peace Sanctuary, Wassaic, NY-USA
September 25th, 2011 Flag Ceremonies, Taiko drumming, Celtic music and song, Hawaiian Dance and more, to celebrate the International Day of Peace (IDP). A Call To Peace is an annual peace gathering held at The World Peace Sanctuary, headquarters of The World Peace Prayer Society and home of The Peace Pole Project. September 21st marked the United Nations' 30th Anniversary of the International Day of Peace, designated by resolution in 1982 for the purpose of highlighting efforts to end conflict, cease fire and promote peace.