Stratfor Hacked & EMail Bombed
What price bad intelligence? Some 5m internal emails from Stratfor , an Austin, Texas-based company that brands itself as a "global intelligence" provider, were recently obtained by Anonymous , the hacker collective, and are being released in batches by WikiLeaks , the whistleblowing website, starting Monday. The most striking revelation from the latest disclosure is not simply the military-industrial complex that conspires to spy on citizens, activists and trouble-causers, but the extremely low quality of the information available to the highest bidder. Clients of the company include Dow Chemical, Lockheed Martin, Northrop Grumman and Raytheon, as well as US government agencies like the Department of Homeland Security, the Defense Intelligence Agency and the Marines. Analysts working on the Middle East for the company appeared to be very poorly informed, with no more experience than a semester of studying abroad, according to journalists who have studied the documents.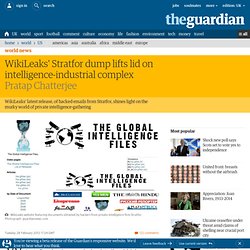 WikiLeaks' Stratfor dump lifts lid on intelligence-industrial complex | Pratap Chatterjee | Comment is free
On Monday February 27th, 2012, WikiLeaks began publishing The Global Intelligence Files , over five million e-mails from the Texas headquartered "global intelligence" company Stratfor. The e-mails date between July 2004 and late December 2011. They reveal the inner workings of a company that fronts as an intelligence publisher, but provides confidential intelligence services to large corporations, such as Bhopal's Dow Chemical Co., Lockheed Martin, Northrop Grumman, Raytheon and government agencies, including the US Department of Homeland Security, the US Marines and the US Defence Intelligence Agency. The emails show Stratfor's web of informers, pay-off structure, payment laundering techniques and psychological methods. I have a cost.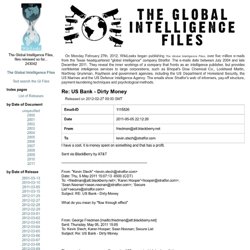 Re: US Bank - Dirty Money
George Friedman on Email Theft and the Wikileaks Release
Watch D.C. | Stratfor vs. Anonymous
Strange Bedfellows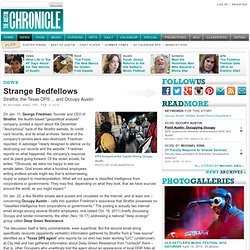 DPS troopers at the Capitol filming Occupy Austin Photo by John Anderson On Jan. 11, George Friedman , founder and CEO of Stratfor , the Austin-based "geopolitical analysis" company, posted a report about the December "Anonymous" hack of the Stratfor website, its credit card records, and its email archives.
Stratfor CEO: Data wasn't encrypted, and hackers made multiple attacks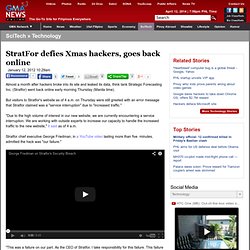 StratFor defies Xmas hackers, goes back online
Almost a month after hackers broke into its site and leaked its data, think tank Strategic Forecasting Inc. (Stratfor) went back online early morning Thursday (Manila time). But visitors to Stratfor's website as of 4 a.m. on Thursday were still greeted with an error message that Stratfor claimed was a "service interruption" due to "increased traffic." "Due to the high volume of interest in our new website, we are currently encountering a service interruption. We are working with outside experts to increase our capacity to handle the increased traffic to the new website," it said as of 4 a.m.
Anonymous' Stratfor hack outs intelligence officials across the world
Stratfor apparently targeted again by hackers