Stratfor Hacked & EMail Bombed
WikiLeaks' Stratfor dump lifts lid on intelligence-industrial complex | Pratap Chatterjee. What price bad intelligence?
Some 5m internal emails from Stratfor, an Austin, Texas-based company that brands itself as a "global intelligence" provider, were recently obtained by Anonymous, the hacker collective, and are being released in batches by WikiLeaks, the whistleblowing website, starting Monday. The most striking revelation from the latest disclosure is not simply the military-industrial complex that conspires to spy on citizens, activists and trouble-causers, but the extremely low quality of the information available to the highest bidder.
Clients of the company include Dow Chemical, Lockheed Martin, Northrop Grumman and Raytheon, as well as US government agencies like the Department of Homeland Security, the Defense Intelligence Agency and the Marines. George Friedman on Email Theft and the Wikileaks Release. Watch D.C. | Stratfor vs. Anonymous. Strange Bedfellows. DPS troopers at the Capitol filming Occupy Austin Photo by John Anderson On Jan. 11, George Friedman, founder and CEO of Stratfor, the Austin-based "geopolitical analysis" company, posted a report about the December "Anonymous" hack of the Stratfor website, its credit card records, and its email archives.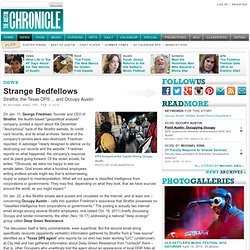 Stratfor CEO: Data wasn't encrypted, and hackers made multiple attacks. The CEO of Stratfor acknowledged Wednesday that the Austin company failed to encrypt the data that was taken by hackers last month and said the hackers actually made multiple attacks on Stratfor's servers.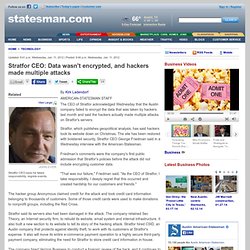 Stratfor, which publishes geopolitical analysis, has said hackers took its website down on Christmas. The site has been restored with bolstered security, Stratfor CEO George Friedman said in a Wednesday interview with the American-Statesman. Friedman's comments were the company's first public admission that Stratfor's policies before the attack did not include encrypting customer data. "That was our failure," Friedman said. "As the CEO of Stratfor, I take responsibility. StratFor defies Xmas hackers, goes back online. Almost a month after hackers broke into its site and leaked its data, think tank Strategic Forecasting Inc.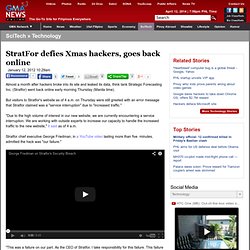 (Stratfor) went back online early morning Thursday (Manila time). But visitors to Stratfor's website as of 4 a.m. on Thursday were still greeted with an error message that Stratfor claimed was a "service interruption" due to "increased traffic. " "Due to the high volume of interest in our new website, we are currently encountering a service interruption. We are working with outside experts to increase our capacity to handle the increased traffic to the new website," it said as of 4 a.m. Anonymous' Stratfor hack outs intelligence officials across the world. Stratfor apparently targeted again by hackers. NEW: The FBI will investigate latest instances of apparent hackingAn apparently fake e-mail is sent out, purportedly from StratforStratfor acknowledges the problem on its Facebook pageStratfor, a global intelligence company, was hacked in December (CNN) -- Hackers appear to have struck Stratfor again.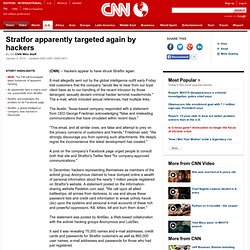 E-mail allegedly sent out by the global intelligence outfit early Friday told customers that the company "would like to hear from our loyal client base as to our handling of the recent intrusion by those deranged, sexually deviant criminal hacker terrorist masterminds. "
---