Social_Networking_GAINT
Get flash to fully experience Pearltrees
Dynamic web page: example of server-side scripting (PHP and MySQL).
January 07, 2010, 12:54 PM — I'm on a social network; you're on a social network, these days it seems we're all on at least one social network--like Facebook, Twitter, etc. etc--if not two, three, or even more. To be exact, the Pew Internet & American Life Project 's December 2008 tracking survey found that 35% of adult internet users now have a profile on an online social network site.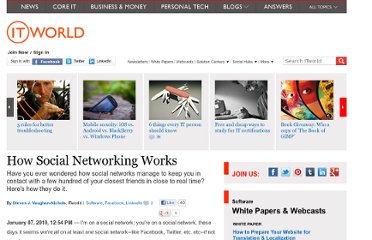 The news may overflow with stories about the social networking giants, such as Facebook and MySpace , but a horde of companies are doing their best to reduce the fundamental features of these websites to mere commodities. These up-and-coming companies provide so-called "white label" social networking platforms that enable their customers to build their own social networks (often from scratch) and to tailor those networks to a range of purposes. The idea of white labeling a network is to make the platform provider as invisible as possible to the social network's users and to brand the network with the builder's identity or intent.