SKIN CHIP
John Rogers Man@TheTop. For a complete list of publications, see Rogers research group page.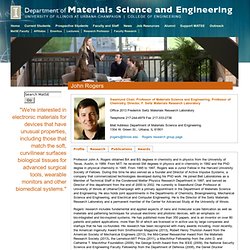 Y.M. Song, Y. Xie, V. Malyarchuk, J. Smart skin: Electronics that stick and stretch like a temporary tattoo. 8/11/2011 | Liz Ahlberg, Physical Sciences Editor | 217-244-1073; eahlberg@illinois.edu CHAMPAIGN, Ill. — Engineers have developed a device platform that combines electronic components for sensing, medical diagnostics, communications and human-machine interfaces, all on an ultrathin skin-like patch that mounts directly onto the skin with the ease, flexibility and comfort of a temporary tattoo.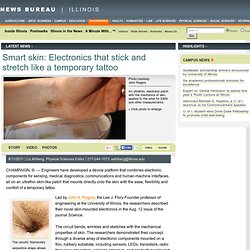 The circuits' filamentary serpentine shape allows them to bend, twist, scrunch and stretch while maintaining functionality. | Photo courtesy John Rogers Led by John A. Rogers, the Lee J. Flory-Founder professor of engineering at the University of Illinois, the researchers described their novel skin-mounted electronics in the Aug. 12 issue of the journal Science. Researchers build transparent, super-stretchy skin-like sensor. Imagine having skin so supple you could stretch it out to more than twice its normal length in any direction -- repeatedly -- yet it would always snap back completely wrinkle-free when you let go of it.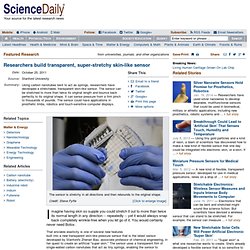 You would certainly never need Botox. That enviable elasticity is one of several new features built into a new transparent skin-like pressure sensor that is the latest sensor developed by Stanford's Zhenan Bao, associate professor of chemical engineering, in her quest to create an artificial "super skin. " The sensor uses a transparent film of single-walled carbon nanotubes that act as tiny springs, enabling the sensor to accurately measure the force on it, whether it's being pulled like taffy or squeezed like a sponge. "This sensor can register pressure ranging from a firm pinch between your thumb and forefinger to twice the pressure exerted by an elephant standing on one foot," said Darren Lipomi, a postdoctoral researcher in Bao's lab, who is part of the research team.
Electronic Tattoo Grafts Gadgets to Skin. Wearable electronics usually trade flexibility for computing power, but engineers have created a new ultrathin device from silicon that can stick to skin like a temporary tattoo and are powerful enough to read brain signals.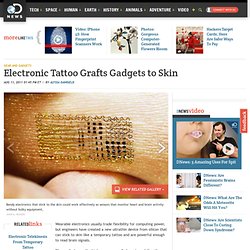 "You can't change the biology so you really have to redefine the nature of electronics," said John A. Rogers, the University of Illinois engineering professor who led the development.
---