SANOFI
VACCINES. 22810_20F_2010. 22810_20F_2010. Aventis Foundation: Aventis Foundation. Sanofi - Wiki. Sanofi S.A. is a multinational pharmaceutical company headquartered in Paris, France, as of 2014 the world's fifth-largest by prescription sales.[2] The company was formed as Sanofi-Aventis in 2004 by the merger of Aventis and Sanofi-Synthélabo, which were each the product of several previous mergers.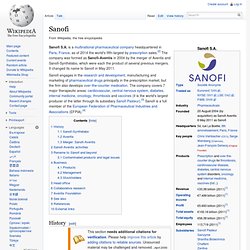 It changed its name to Sanofi in May 2011. Sanofi engages in the research and development, manufacturing and marketing of pharmaceutical drugs principally in the prescription market, but the firm also develops over-the-counter medication. The company covers 7 major therapeutic areas: cardiovascular, central nervous system, diabetes, internal medicine, oncology, thrombosis and vaccines (it is the world's largest producer of the latter through its subsidiary Sanofi Pasteur).[3] Sanofi is a full member of the European Federation of Pharmaceutical Industries and Associations (EFPIA).[4] History[edit]
Sanofi - A diversified healthcare company, focused on patients' needs.
---