RACISM
John Podesta. John David Podesta (born January 8, 1949)[2] was the fourth and final White House Chief of Staff under President Bill Clinton, from 1998 until 2001.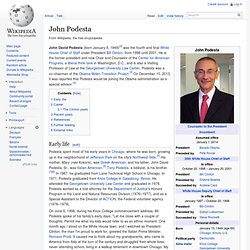 He is the former president and now Chair and Counselor of the Center for American Progress, a liberal think tank in Washington, D.C., and is also a Visiting Professor of Law at the Georgetown University Law Center. Podesta was a co-chairman of the Obama-Biden Transition Project.[3] On December 10, 2013, it was reported that Podesta would be joining the Obama administration as a special advisor.[4] Early life[edit] On June 6, 1998, during his Knox College commencement address, Mr. Center for American Progress. About Us. John Podesta. John Podesta is Chair of the Center for American Progress and the Center for American Progress Action Fund.
Under his leadership American Progress has become a notable leader in the development of and advocacy for progressive policy. Prior to founding the Center in 2003, Podesta served as White House chief of staff to President William J. Jihad Watch. The Indypendent.
---