PIRATU U.K. NoHaXXX DraGun Deal With Them... Piratu'z Boat. LulZ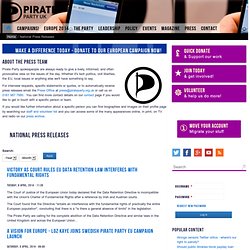 The Pirate Party UK is a political organisation registered with the electoral commission.
Press Releases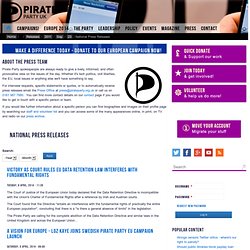 Pirate Party UK Presses Minister on Web Blocking, Evidence Based Policy
Download this press release as a PDF. Loz Kaye - Pirate Party UK Leader: On Tuesday I met with the Culture, Communications and Creative Industries Minister Ed Vaizey, along with interested groups including ORG, Coadec, LINX, a representative of the ISPs, and the Tax Payers Alliance.
Home | thepirateparty.com
The Pirate Party UK (often abbreviated PPUK; in Welsh: Plaid Môr-leidr DU) is a political party in the United Kingdom.[5] The Pirate Party's core policies are to bring about reform to Copyright and Patent laws, support privacy and reduce surveillance from government and businesses, and guarantee genuine freedom of speech for everyone.[6][7] The Pirate Party UK contested its first election in 2010, standing 9 candidates in the 2010 General Election, and also stood in the 2011 Oldham East and Saddleworth and 2012 Manchester Central by-elections. The highest number of votes the party has achieved to date is 5.2% by Loz Kaye when standing in the Manchester Bradford Ward during the 2012 Local Elections.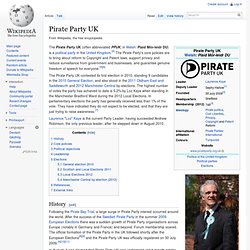 Pirate Party UK
Pirate Party UK (@PiratePartyUK) sur Twitter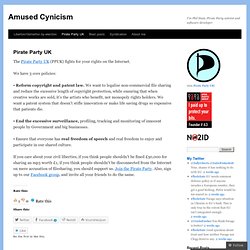 The Pirate Party UK (PPUK) fights for your rights on the Internet. We have 3 core policies:
Pirate Party UK | Amused Cynicism