#OpESR #OurWallStreet
Greenspan Gives Thumbs Up To Unregulated Derivatives Market
Occupy Wall Street Protests
Big Sis is Tracking You Everywhere: Nightly News Report
Exclusive: Occupy Wall Street Activist Slams Fox News Producer In Un-Aired Interview [Video] | The New York Observer
Protester Jesse LaGreca schools Fox producer Even if was at the Zuccotti Park yesterday , Fox News has generally been a tad dismissive of the Occupy Wall Street movement. Foxnews.com (as of this writing) has no coverage of this national event on their front page stories. (Hard to imagine for a network that was so gung-ho about the Tea Party!)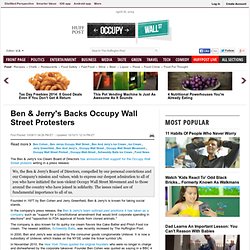 The Ben & Jerry's Ice Cream Board of Directors has announced their support for the Occupy Wall Street protests writing in a press release: We, the Ben & Jerry's Board of Directors, compelled by our personal convictions and our Company's mission and values, wish to express our deepest admiration to all of you who have initiated the non-violent Occupy Wall Street Movement and to those around the country who have joined in solidarity. The issues raised are of fundamental importance to all of us. Founded in 1977 by Ben Cohen and Jerry Greenfield, Ben & Jerry's is known for taking social stands. In the company's press release, the Ben & Jerry's team outlined past positions it has taken as a company such as "support for a Constitutional amendment that would limit corporate spending in elections" and "opposition to FDA approval of foods from cloned animals." The company is also known for its quirky ice cream flavors like Cake Batter and Phish Food ice cream.
Ben & Jerry's Backs Occupy Wall Street Protesters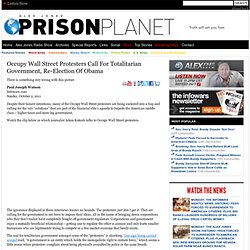 There is something very wrong with this picture Paul Joseph Watson Infowars.com Sunday, October 2, 2011 Despite their honest intentions, many of the Occupy Wall Street protesters are being suckered into a trap and calling for the very "solutions" that are part of the financial elite's agenda to torpedo the American middle class – higher taxes and more big government. Watch the clip below in which journalist Adam Kokesh talks to Occupy Wall Street protesters. The ignorance displayed in these interviews knows no bounds.
Occupy Wall Street Protesters Call For Totalitarian Government, Re-Election Of Obama
Robert Stolarik for The New York Times Protestors gathered in Lower Manhattan for what some called the United States Day of Rage. For months the protesters had planned to descend on Wall Street on a Saturday and occupy parts of it as an expression of anger over a financial system that they say favors the rich and powerful at the expense of ordinary citizens. As it turned out, the demonstrators found much of their target off limits on Saturday as the city shut down sections of Wall Street near the New York Stock Exchange and Federal Hall well before their arrival. By 10 a.m., metal barricades manned by police officers ringed the blocks of Wall Street between Broadway and William Street to the east. (In a statement, Paul J.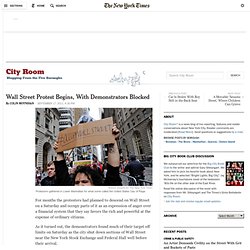 Wall Street Protest Begins, With Demonstrators Blocked
Chris Hedges: Chris Hedges Shares His Thoughts on Occupy Wall Street
#A99 F O C U S
25 AgitatorZ Getting Agitated... xAuLa
By Nick Harbaugh and Jon Huang Wall Street Protesters Speak: The young and old on what they hope to accomplish by joining the Occupy Wall Street demonstration in Zuccotti Park. The hodgepodge Lower Manhattan encampment known as Occupy Wall Street has no appointed leaders, no expiration date for its rabble-rousing stay and still-evolving goals and demands. Yet its two weeks of noisy occupation has lured a sturdily faithful and fervent constituency willing to express discontentment with what they feel is an inequitable financial system until, well, whenever. They arrived by design and desire.
Wall Street Occupiers, Protesting Till Whenever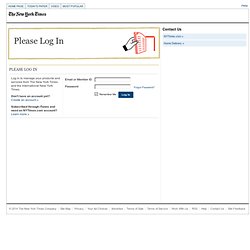 'US protesters against rich one percent'
US protesters are totally against the distribution of wealth and power among the minority in the country, the Occupied Wall Street Journal editor Arun Gupta tells Press TV. "There is no one single demand, we can say why people are there because they are all opposed to the extreme concentration of the wealth and power among the top one percent of the society," he said in an exclusive interview with Press TV on Saturday. "It's a system of the rich, by the rich, and for the rich," he added.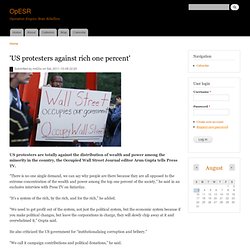 ☣ Tнє Tяцтн ☠
Occupy Wall Street rediscovers the radical imagination | David Graeber | Comment is free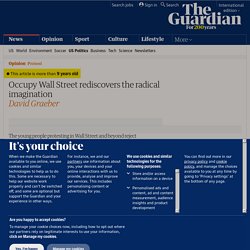 People protest during the 'Occupy Wall Street' rally in New York, 17 September. Photograph: Steven Greaves/Demotix/Corbis Why are people occupying Wall Street?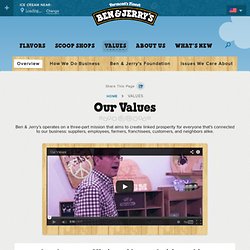 Share We, the Ben & Jerry's Board of Directors, compelled by our personal convictions and our Company's mission and values, wish to express our deepest admiration to all of you who have initiated the non-violent Occupy Wall Street Movement and to those around the country who have joined in solidarity. The issues raised are of fundamental importance to all of us.
To those who Occupy: We stand with you.
Restoring Tally
The # freedom Daily
#OccupyWallStreet Police Brutally Beat Peaceful Protestors
Michael Moore: Occupy Wall Street will only get bigger
Occupy Wall Street Mace / Pepper Spray by NYPD
Occupy Wall Street (FULL) Interview with Chris Hedges Part 1
Full Show - 10/6/11. From Occupy Wall Street to Occupy America
Building on the momentum of the Arab Spring movements, protesters in the US are gathering in New York City's financial district in a bid to show mass resistance against the dominance of the country's financial system. What started as an online campaign has translated into action on the ground, with protest organisers calling for thousands of people to "occupy Wall Street" on Saturday. "On the 17th of September, we want to see 20,000 people flood into lower Manhattan, set up beds, kitchens, peaceful barricades and occupy Wall Street for a few months," organisers wrote on the www.occupywallst.org website. "Like our brothers and sisters in Egypt, Greece, Spain, and Iceland, we plan to use the revolutionary Arab Spring tactic of mass occupation to restore democracy in America. We also encourage the use of nonviolence to achieve our ends and maximize the safety of all participants."
US protesters rally to #OccupyWallStreet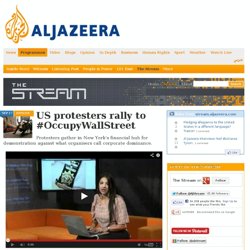 NYPD Manhattan Precincts 1-23 and Citywide 1-3 Live Scanner Audio Feed
#OccupyWallStreet Protesting Outside Wall Street
Arrested For Talking to a Cop
15 year old Tells Establishment to Stick it
OWSDemand1 TweetChat OWS OcupyWallStreet
Social Networking Spurs Wall Street Protest
The hacking group Anonymous and the counterculture magazine Adbusters have helped organized a protest in Lower Manhattan that began Saturday with the intention of lasting months. To view our videos, you need to enable JavaScript. Learn how . install Adobe Flash 9 or above. Install now .
usw-supports-the-occupy-wall-street
Occupy Wall Street protests grow amid Radiohead rumour
1 October 2011 Last updated at 01:49 GMT The crowds in Zuccotti Park are frustrated at a lack of employment and opportunity in the US An estimated 2,000 people have gathered in Lower Manhattan, New York, for the largest protest yet under the banner Occupy Wall Street. Demonstrators marched on New York's police headquarters to protest against arrests and police behaviour. Several hundred people have camped out near Wall Street since 17 September as part of protests against corporate greed, politics, and inequality.
To The NYPD: Investigate Officer Bologna's Macing Of Nonviolent Protestors
To The NYPD: Investigate Officer Bologna's Macing Of Nonviolent Protestors He did it again. Footage has emerged of a second macing of nonviolent protesters by NYPD officer Anthony Bologna (below). The NYPD is claiming it's going to investigate, but Commissioner Raymond Kelly is skeptical that Bologna did anything wrong! He said of the footage of the incident: "In my experience, proponents of a certain position would show you just what they want to show you."
Over the past few years, we have had a few cases were Google decided to censor a report of ours from their search results. We documented one case publicly here . We usually don't make a big deal about it online because people tend to just dismiss us as "crazy" when we do. However, this latest case is blocking our new report on the #OccupyWallStreet movement and we would like to bring it to the attention of the many supporters within the movement.
Google Censors Our #OccupyWallStreet Report | AmpedStatus
Bloomberg Implies Occupy Wall Street Protest's Days Are Numbered
Mayor Bloomberg made some ominous comments today about the ongoing Occupy Wall Street protests that have been going on for nearly two weeks in Zuccotti Park. When he was asked on his weekly radio show whether he'll let the anti-corporate protesters stay as long as they want, he responded cryptically : "We'll see. People have a right to protest, but we also have to make sure that people who don't want to protest can go down the streets unmolested."
TrendsMap Proves Scary Twitter Censorship Of #OccupyWallStreet From Trending Topics
Hundreds of protesters descend to 'Occupy Wall Street' - Sep. 17
NEW YORK (CNNMoney) -- Hundreds of demonstrators took to the streets of Manhattan's financial district on Saturday in a largely peaceful protest aimed at drawing attention to the role powerful financial interests played in wreaking havoc on America's economy. Modeled on the "Arab Spring" uprisings that swept through Egypt, Tunisia, Syria and other countries this year, Occupy Wall Street is a "leaderless resistance movement" orchestrated through Twitter, Facebook and other social media tools. The Twitter hashtags #OccupyWallStreet and #TakeWallStreet lit up Saturday with coordination messages and solidarity tweets. (See CNNMoney's coverage in photos and tweets .) Activist magazine Adbusters spearheaded the event, putting the call out two months ago for participants in a Sept. 17 demonstration in lower Manhattan. Protestors arranged to meet and discuss their goals at the iconic Wall Street Bull statue at noon, as well as at a "people's assembly" at One Chase Manhattan Plaza at 3 p.m.
Occupy Wall Street Sept 17: Protester speaks out
US protesters rally to occupy Wall Street
Hundreds of Occupy Wall Street protesters arrested
Anonymiss Express
Occupy Wall Street Protester End the Fed - Best Rant!
Police Happy to Kneel on Your Throat - OCCUPY WALL STREET
Live Stream: Protesters Occupy Wall Street | Truthout
Wall Street Protest Begins, With Demonstrators Blocked
Unbelievable protest footage. NYPD drag girl across the street
Occupying Wall Street: A Firsthand Account
Occupy Wall Street - Liberty Square - Day 6 - 23 September 2011
Max Keiser: Expect new crashes unless #occupywallstreet demands met!
Lawyers back Occupy Wall Street Protesters!
Carpool to #Occupy Wallstreet
Treason Against the American People: #OccupyWallStreet Grandma Speaks Out
ANTHONY BOLOGNA = GUILTY : Occupy Wall Street: 'Pepper-spray' officer named in Bush protest claim | World news
Wall Street Goes to School | Truthout
Police Respond With Aggression to Wall Street Protests
Occupy Wall Street Sept 17
Occupy Wall Street Sept. 17, 2011
Economic Rebellion Update – This Is What Decentralized Resistance Looks Like | AmpedStatus
ViSUAL CoMBaT DaiLY (9.18.11) (FiGHT GLoBaL BaNKSTeRiSM)
Occupy Wallstreet Update! The Marines are Coming to PROTECT the Protesters
Protesters invade NYC Financial District - TODAY News
Anti-Flag "Die For The Government"
"Occupy Wall Street" Protests are the Most Absurd Demonstrations in a Generation
'Occupy Wall Street' protester: Cops part of the 99 percent | Raw Replay
Occupy Wall Street, September 17th
Occupy Wall Street: Interview with Danny Garza | Presstorm Media
Wall Street Protest, including police arrests, September 22, 2011
OpESR Status Update: Empire State Rebellion Day 1 | AmpedStatus