#OpESR #OurWallStreet
Greenspan Gives Thumbs Up To Unregulated Derivatives Market
Occupy Wall Street Protests
Big Sis is Tracking You Everywhere: Nightly News Report
Exclusive: Occupy Wall Street Activist Slams Fox News Producer In Un-Aired Interview [Video] | The New York Observer
Protester Jesse LaGreca schools Fox producer Even if was at the Zuccotti Park yesterday , Fox News has generally been a tad dismissive of the Occupy Wall Street movement. Foxnews.com (as of this writing) has no coverage of this national event on their front page stories. (Hard to imagine for a network that was so gung-ho about the Tea Party!)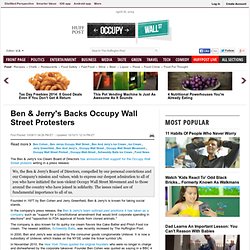 The Ben & Jerry's Ice Cream Board of Directors has announced their support for the Occupy Wall Street protests writing in a press release: We, the Ben & Jerry's Board of Directors, compelled by our personal convictions and our Company's mission and values, wish to express our deepest admiration to all of you who have initiated the non-violent Occupy Wall Street Movement and to those around the country who have joined in solidarity. The issues raised are of fundamental importance to all of us. Founded in 1977 by Ben Cohen and Jerry Greenfield, Ben & Jerry's is known for taking social stands. In the company's press release, the Ben & Jerry's team outlined past positions it has taken as a company such as "support for a Constitutional amendment that would limit corporate spending in elections" and "opposition to FDA approval of foods from cloned animals." The company is also known for its quirky ice cream flavors like Cake Batter and Phish Food ice cream.
Ben & Jerry's Backs Occupy Wall Street Protesters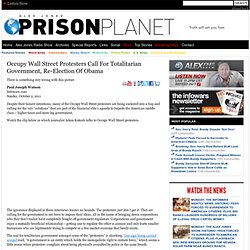 There is something very wrong with this picture Paul Joseph Watson Infowars.com Sunday, October 2, 2011 Despite their honest intentions, many of the Occupy Wall Street protesters are being suckered into a trap and calling for the very "solutions" that are part of the financial elite's agenda to torpedo the American middle class – higher taxes and more big government. Watch the clip below in which journalist Adam Kokesh talks to Occupy Wall Street protesters. The ignorance displayed in these interviews knows no bounds.
Occupy Wall Street Protesters Call For Totalitarian Government, Re-Election Of Obama
Robert Stolarik for The New York TimesProtestors gathered in Lower Manhattan for what some called the United States Day of Rage. For months the protesters had planned to descend on Wall Street on a Saturday and occupy parts of it as an expression of anger over a financial system that they say favors the rich and powerful at the expense of ordinary citizens. As it turned out, the demonstrators found much of their target off limits on Saturday as the city shut down sections of Wall Street near the New York Stock Exchange and Federal Hall well before their arrival. By 10 a.m., metal barricades manned by police officers ringed the blocks of Wall Street between Broadway and William Street to the east. (In a statement, Paul J.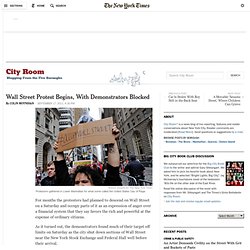 Wall Street Protest Begins, With Demonstrators Blocked
Chris Hedges: Chris Hedges Shares His Thoughts on Occupy Wall Street
25 AgitatorZ Getting Agitated... xAuLa
Wall Street Occupiers, Protesting Till Whenever
'US protesters against rich one percent'
US protesters are totally against the distribution of wealth and power among the minority in the country, the Occupied Wall Street Journal editor Arun Gupta tells Press TV. "There is no one single demand, we can say why people are there because they are all opposed to the extreme concentration of the wealth and power among the top one percent of the society," he said in an exclusive interview with Press TV on Saturday. "It's a system of the rich, by the rich, and for the rich," he added.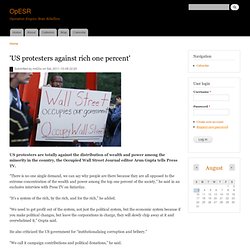 ☣ Tнє Tяцтн ☠
Occupy Wall Street rediscovers the radical imagination | David Graeber | Comment is free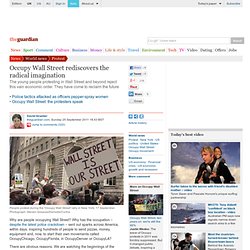 People protest during the 'Occupy Wall Street' rally in New York, 17 September. Photograph: Steven Greaves/Demotix/Corbis Why are people occupying Wall Street?
To those who Occupy: We stand with you.
Restoring Tally
Breaking news and opinion on The Blaze
Channel Finder Find TheBlaze on your TV This zipcode is invalid, please try again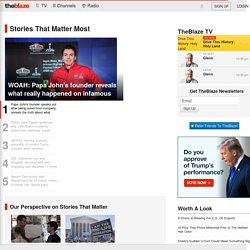 The # freedom Daily
PEACEFUL FEMALE PROTESTORS PENNED IN THE STREET AND MACED!- #OccupyWallStreet
#OccupyWallStreet Police Brutally Beat Peaceful Protestors
Michael Moore: Occupy Wall Street will only get bigger
Occupy Wall Street Mace / Pepper Spray by NYPD
Occupy Wall Street (FULL) Interview with Chris Hedges Part 1
Full Show - 10/6/11. From Occupy Wall Street to Occupy America
NYPD Manhattan Precincts 1-23 and Citywide 1-3 Live Scanner Audio Feed
#OccupyWallStreet Protesting Outside Wall Street
The Sky May Be Falling, But it's Only a Storm JG Vibes | There is no doubt that we are in the midst of a storm that has been raging for centuries, and the intensity of that storm is growing by the minute. For this, we have every reason to make any and all preparations that we deem to be necessary, but we should not be consumed by fear to the point where we are considering violence or nihilism. … Trust yourself, Resist the State
#OccupyWallStreet NYPD Police (Tough Guys) Beat Peaceful Protesters :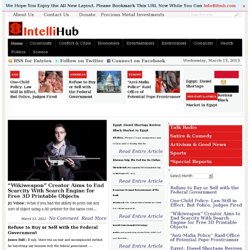 Arrested For Talking to a Cop
We the People: Your Voice in Our Government
15 year old Tells Establishment to Stick it
OWSDemand1 TweetChat OWS OcupyWallStreet
Social Networking Spurs Wall Street Protest
The hacking group Anonymous and the counterculture magazine Adbusters have helped organized a protest in Lower Manhattan that began Saturday with the intention of lasting months. To view our videos, you need to enable JavaScript. Learn how . install Adobe Flash 9 or above. Install now .
usw-supports-the-occupy-wall-street
Occupy Wall Street protests grow amid Radiohead rumour
1 October 2011Last updated at 02:49 The crowds in Zuccotti Park are frustrated at a lack of employment and opportunity in the US An estimated 2,000 people have gathered in Lower Manhattan, New York, for the largest protest yet under the banner Occupy Wall Street. Demonstrators marched on New York's police headquarters to protest against arrests and police behaviour. Several hundred people have camped out near Wall Street since 17 September as part of protests against corporate greed, politics, and inequality.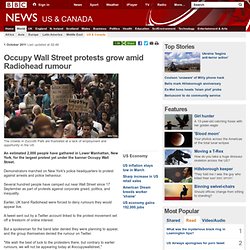 To The NYPD: Investigate Officer Bologna's Macing Of Nonviolent Protestors
To The NYPD: Investigate Officer Bologna's Macing Of Nonviolent Protestors He did it again. Footage has emerged of a second macing of nonviolent protesters by NYPD officer Anthony Bologna (below). The NYPD is claiming it's going to investigate, but Commissioner Raymond Kelly is skeptical that Bologna did anything wrong! He said of the footage of the incident: "In my experience, proponents of a certain position would show you just what they want to show you."
Over the past few years, we have had a few cases were Google decided to censor a report of ours from their search results. We documented one case publicly here. We usually don't make a big deal about it online because people tend to just dismiss us as "crazy" when we do. However, this latest case is blocking our new report on the #OccupyWallStreet movement and we would like to bring it to the attention of the many supporters within the movement.
Google Censors Our #OccupyWallStreet Report | AmpedStatus
Bloomberg Implies Occupy Wall Street Protest's Days Are Numbered
OccupyWallSt.org | The American Revolution Begins Sept 17th
Hundreds of protesters descend to 'Occupy Wall Street' - Sep. 17
Occupy Wall Street Sept 17: Protester speaks out
Hundreds of Occupy Wall Street protesters arrested
Anonymiss Express
Occupy Wall Street Protester End the Fed - Best Rant!
Police Happy to Kneel on Your Throat - OCCUPY WALL STREET
Live Stream: Protesters Occupy Wall Street | Truthout
Wall Street Protest Begins, With Demonstrators Blocked
Unbelievable protest footage. NYPD drag girl across the street
Occupying Wall Street: A Firsthand Account
Occupy Wall Street - Liberty Square - Day 6 - 23 September 2011
Max Keiser: Expect new crashes unless #occupywallstreet demands met!
Lawyers back Occupy Wall Street Protesters!
Carpool to #Occupy Wallstreet
Treason Against the American People: #OccupyWallStreet Grandma Speaks Out
ANTHONY BOLOGNA = GUILTY : Occupy Wall Street: 'Pepper-spray' officer named in Bush protest claim | World news
Wall Street Goes to School | Truthout
Police Respond With Aggression to Wall Street Protests
Occupy Wall Street Sept 17
Occupy Wall Street Sept. 17, 2011
Economic Rebellion Update – This Is What Decentralized Resistance Looks Like | AmpedStatus
Occupy Wallstreet Update! The Marines are Coming to PROTECT the Protesters
OccupyWallSt.org | News & Logistics for September 17th
Protesters invade NYC Financial District - TODAY News
Anti-Flag "Die For The Government"
"Occupy Wall Street" Protests are the Most Absurd Demonstrations in a Generation
'Occupy Wall Street' protester: Cops part of the 99 percent | Raw Replay
Occupy Wall Street, September 17th
Occupy Wall Street: Interview with Danny Garza | Presstorm Media
Wall Street Protest, including police arrests, September 22, 2011
OpESR Status Update: Empire State Rebellion Day 1 | AmpedStatus