OIL SAND EXTRACTION
Steam-assisted gravity drainage - Wiki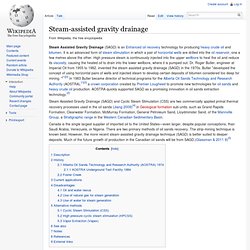 Steam Assisted Gravity Drainage (SAGD) is an enhanced oil recovery technology for producing heavy crude oil and bitumen .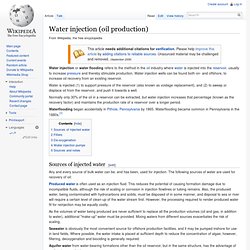 Water injection (oil production) - Wiki
Water injection refers to the method in the oil industry where water is injected back into the reservoir , usually to increase pressure and thereby stimulate production. Water injection wells can be found both on- and offshore, to increase oil recovery from an existing reservoir. The first use of water injection to increase production from failing oil wells was in the states of New York and Pennsylvania in the early 1930s. [ 1 ]
Artificial lift refers to the use of artificial means to increase the flow of liquids, such as crude oil or water, from a production well. Generally this is achieved by the use of a mechanical device inside the well (known as pump or velocity string ) or by decreasing the weight of the hydrostatic column by injecting gas into the liquid some distance down the well.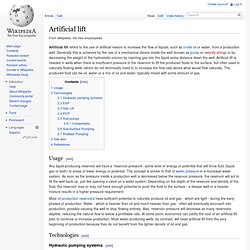 Artificial lift - Wiki
Destructive distillation - Wiki
Destructive distillation is the chemical process involving the decomposition of feedstock by heating to a high temperature; the term generally applies to processing of organic material in the absence of air or in the presence of limited amounts of oxygen or other reagents , catalysts , or solvents , such as steam or phenols .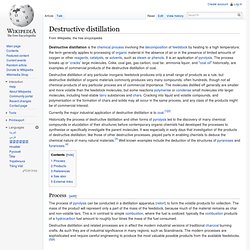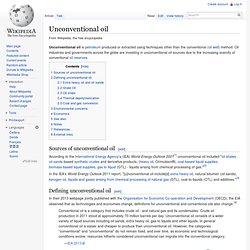 Unconventional oil - Wiki
Unconventional oil is petroleum produced or extracted using techniques other than the conventional ( oil well ) method. Oil industries and governments across the globe are investing in unconventional oil sources due to the increasing scarcity of conventional oil reserves . [ edit ] Sources of unconventional oil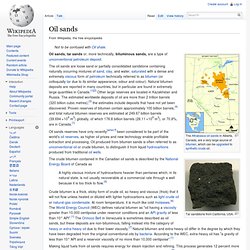 Oil sands, tar sands or, more technically, bituminous sands, are a type of unconventional petroleum deposit .
Oil Sands - Wiki
Dr. Daniel Fine of M.I.T. Speaks at Heritage about Oil Shale and Energy Pt2