#OccupyLSX
Occupy LSX criticizes British media The Occupy London Stock Exchange movement has criticized the British media for downgrading the anti-capitalism demonstration after claiming only one out of ten protest camps were occupied during the nights. British media, which had formerly imposed a total blackout on the event, claimed that the majority of Occupy LSX protesters who are camped outside St Paul's Cathedral leave their tents at night and return to their "warm beds." According to the Daily Mail, "footage from a thermal imaging camera" shot by a police helicopter showed that the camps were almost completely empty during the nights. "It suggests the majority of the 300 'defiant' protesters at the cathedral return home or to hotels after dark to sleep in warm beds," the Daily Mail reported.
Occupy LSX criticizes British media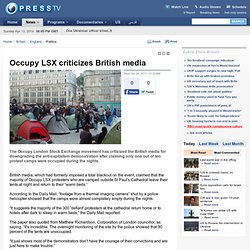 Professor Jan Toporowski | Staff | SOAS
Occupy London Stock Exchange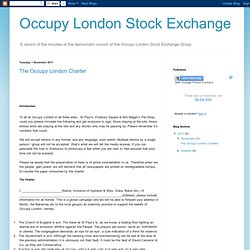 Present New Ager (NA)- Believes in freedom for all and the eradication of all money( except for benefit payments) . Has previously attended numerous demonstrations including ones dedicated to : The eradication of coal fire power stations, replacing them with a new form of power created from human dung fermentation.
We've had revolution in Tunisia, Egypt's Mubarak is teetering; in Yemen, Jordan and Syria suddenly protests have appeared. In Ireland young techno-savvy professionals are agitating for a "Second Republic"; in France the youth from banlieues battled police on the streets to defend the retirement rights of 60-year olds; in Greece striking and rioting have become a national pastime. And in Britain we've had riots and student occupations that changed the political mood.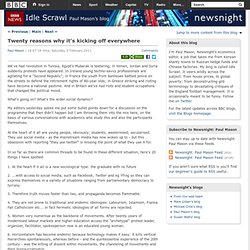 Anon / Police Officer Paradox @ #OccupyLSX
16 October 2011Last updated at 11:27 'Anonymous' people have become the new pole of attraction for the deep 'autonomist' movement. In February I wrote a blog called "Twenty Reasons Why It's Kicking Off Everywhere". With the global Occupy protests yesterday it is still looking quite accurate.
'Occupy' is a response to economic permafrost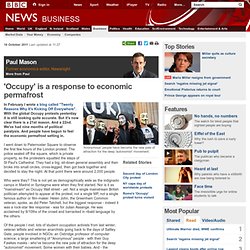 The Occupy London movement in the U.K. eclipsed 12,000 Facebook followers Thursday, with more than 4,500 saying they will march on the London Stock Exchange this weekend. Occupy Wall Street-style movements are spreading in the United Kingdom, Naomi Colvin, an activist and spokeswoman for the group, said. A similar movement began in the northern English city of Manchester earlier this month.
Thousands set to march in Occupy London protest - World news - Europe
Thousands set to march in Occupy London protest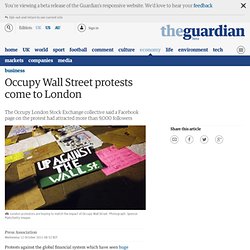 Protests against the global financial system which have seen huge demonstrations in New York's Wall Street will spread to the City of London this weekend. A number of campaign organisations, including direct action group UK Uncut, say they will support an occupation of the heart of the capital's financial centre on Saturday as part of a "global movement for real democracy" to highlight social and economic injustice. The Occupy London Stock Exchange collective said a Facebook page on the protest had attracted more than 9,000 followers, with more than 3,500 confirmed attendees. Laura Taylor, a supporter of the so-called OccupyLSX, said: "Why are we paying for a crisis the banks caused? More than a million people have lost their jobs and tens of thousands of homes have been repossessed, while small businesses are struggling to survive. "Yet bankers continue to make billions in profit and pay themselves enormous bonuses, even after we bailed them out with £850bn."
Occupy Wall Street protests come to London | Business
**** Update 7 June – The Finsbury Square occupation has been granted a stay of execution until Friday 15 June to lodge an appeal. Pop down, show support, bring supplies (food, bedding, cleaning stuff etc) *** Finsbury Square eviction The potential forceful eviction of the Occupy London Finsbury Square camp is expected to happen in the early hours in the next few days, with residents choosing to mark the eviction with peaceful resistance. The potential eviction follows Justice Hickinbottom ruling on Friday at the High Court that Islington Borough Council has the right to repossess the public space post Jubilee Bank Holiday.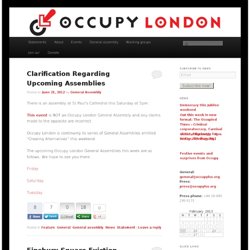 By Agence France-PresseTuesday, October 11, 2011 22:39 EDT LONDON — Protests against corporate power that have taken hold in the United States are to hit Britain on Saturday with a rally in front of the London Stock Exchange, organisers revealed. Occupy London Stock Exchange (OccupyLSX) plans to launch a "peaceful occupation" near the capital's financial nerve centre, and its page on social networking site Facebook has attracted 3,500 confirmed attendees. "This is a people-powered movement protesting against the increasing social and economic injustice in the UK," OccupyLSX supporter Kai Wargalla explained on Wednesday.
'Occupy' protests to arrive at London Stock Exchange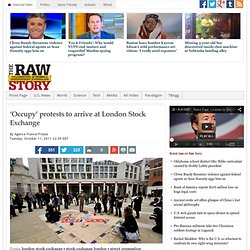 Occupy London (First General Assembly) on Vimeo