NUCL34R W4TCH
Hemp DigestZ Nuclear Waste
#San_Onofre : #Jennifer_Manofre Press
Tsar Bomba - Biggest Nuclear Explosion EVER.
Grand Canyon Uranium Banned For 20Years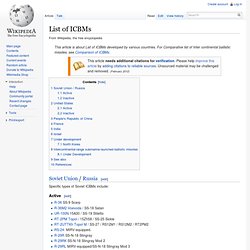 Soviet Union / Russia[edit] Specific types of Soviet ICBMs include:
List of ICBMs
Voevoda-Class WAR_Head Satan_Dea_DraX Of Russia
Savannah : Nuclear Spider Web Spent Fuel Assemblies
Broken ArrowZ : Missing NukeZ
radiation updates
Nuclear Holocaust - Last Days
Private spat within U.S. nuclear agency laid bare
Multicountry Nuclear Event Alert
SCE San Onofre California
Galeria de Fotos
Nuclear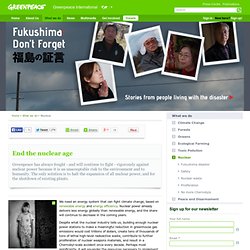 Greenpeace has always fought - and will continue to fight - vigorously against nuclear power because it is an unacceptable risk to the environment and to humanity. The only solution is to halt the expansion of all nuclear power, and for the shutdown of existing plants.
HAZMAT in United Kingdom on Thursday, 13 October, 2011 at 17:09 (05:09 PM) UTC. EDIS CODE: HZ-20111013-32672-GBR
Highly radioactive material found on a Fife beach is giving "cause for concern", according to environmental watchdogs. The Scottish Environment Protection Agency found the lump of contaminated metal at Dalgety Bay beach on Saturday.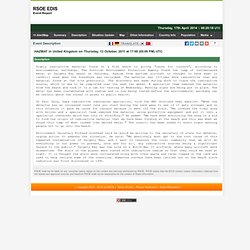 Highly radioactive material found / Fife Beach /Scottland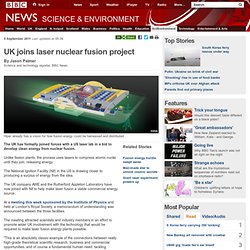 UK joins laser nuclear fusion project
9 September 2011Last updated at 00:34 ET By Jason Palmer Science and technology reporter, BBC News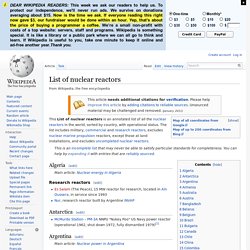 This List of nuclear reactors is an annotated list of all the nuclear reactors in the world, sorted by country, with operational status.
List of nuclear reactors - Wiki
MOX Nuclear Recycle Agent
france mox nuclear"
Nuclear weapons testing
Nuclear weapons tests are experiments carried out to determine the effectiveness, yield, and explosive capability of nuclear weapons. Throughout the 20th century, most nations that developed nuclear weapons tested them. Testing nuclear weapons can yield information about how the weapons work, as well as how the weapons behave under various conditions and how structures behave when subjected to nuclear explosions.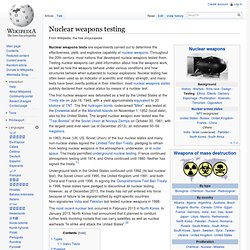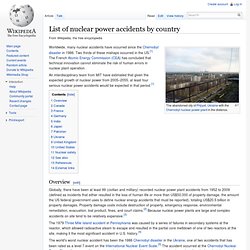 Nuclear power accidents by country
Compared to other means of generating electricity, notably fossil fuels, nuclear power is safe, with few far fewer fatalities than caused through Mining accident and incomparably fewer than through Air pollution caused by burning oil or solid fuels. However, public tolerance of nuclear danger is low and major accidents, like the Chernobyl disaster in 1986 severely damaged worldwide confidence. Even though no one died in the Fukushima nuclear disaster of 2011 the fears it provoked caused Germany to abandon nuclear electric generation.
This article lists notable civilian accidents involving fissile nuclear material or nuclear reactors.
List of civilian nuclear accidents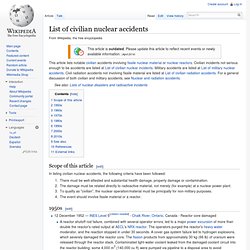 Leaked Video Of Explosion At Tricastin Nuclear Power Station In France!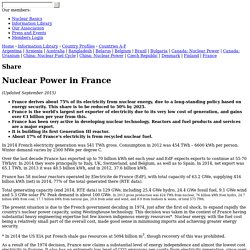 Nuclear Power in France | French Nuclear Energy
(Updated December 2013) France derives over 75% of its electricity from nuclear energy. This is due to a long-standing policy based on energy security.France is the world's largest net exporter of electricity due to its very low cost of generation, and gains over EUR 3 billion per year from this.France has been very active in developing nuclear technology. Reactors and fuel products and services are a major export.It is building its first Generation III reactor.About 17% of France's electricity is from recycled nuclear fuel. In 2011 French electricity generation was 542 billion kWh net, and consumption was 478 billion kWh (down from 513 billion kWh in 2010 due to being a mild year) – about 6800 kWh per person. Winter demand varies by 2300 MWe per degree C.
International Atomic Energy Agency (IAEA): The Nuclear Safety Culture: Strengthening Safety at Nuclear Installations
IAEA Offices and Contact Information Headquarters Liaison Offices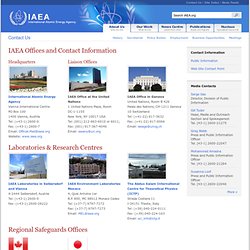 Offices and Contact Information