NUCL34R W4TCH
Hemp DigestZ Nuclear Waste
#San_Onofre : #Jennifer_Manofre Press
Tsar Bomba - Biggest Nuclear Explosion EVER.
Grand Canyon Uranium Banned For 20Years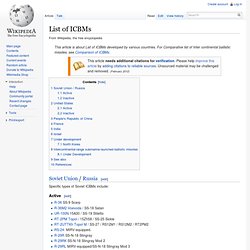 Soviet Union / Russia[edit] Specific types of Soviet ICBMs include: Active[edit] Inactive[edit] United States[edit] Active[edit]
List of ICBMs
Voevoda-Class WAR_Head Satan_Dea_DraX Of Russia
Savannah : Nuclear Spider Web Spent Fuel Assemblies
Broken ArrowZ : Missing NukeZ
radiation updates
Nuclear Holocaust - Last Days
WASHINGTON (Reuters) - Deep-seated infighting within the five-member U.S. nuclear safety regulator was exposed on Friday after Democrats and Republicans in Congress separately released complaints about misconduct at the highest levels of the agency. The details shed new light on how caustic relationships have become at the Nuclear Regulatory Commission, which is rolling out a sweeping series of reforms for U.S. nuclear power plants in the wake of the March disaster at Japan's Fukushima Daiichi power plant. On one side is the agency's chairman, Gregory Jaczko, who previously worked for prominent nuclear critics in Congress. On the other, four commissioners -- two Democratic appointees and two Republicans -- who complained to the White House in October that Jaczko was overstepping his powers, and intimidating senior NRC staff and an independent group of advisors that was reviewing the agency's analysis of the Fukushima accident.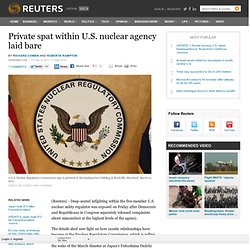 Private spat within U.S. nuclear agency laid bare
Multicountry Nuclear Event Alert
SCE San Onofre California
Galeria de Fotos
Nuclear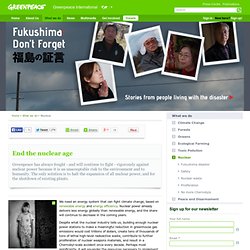 Greenpeace has always fought - and will continue to fight - vigorously against nuclear power because it is an unacceptable risk to the environment and to humanity. The only solution is to halt the expansion of all nuclear power, and for the shutdown of existing plants. Nastya, from Belarus was only three years old when she was diagnosed with cancer of the uterus and lungs. According to local doctors the region has seen a huge increase in childhood cancer cases since the Chernobyl disaster. We need an energy system that can fight climate change, based on renewable energy and energy efficiency. Nuclear power already delivers less energy globally than renewable energy, and the share will continue to decrease in the coming years.
HAZMAT in United Kingdom on Thursday, 13 October, 2011 at 17:09 (05:09 PM) UTC. EDIS CODE: HZ-20111013-32672-GBR
Highly radioactive material found on a Fife beach is giving "cause for concern", according to environmental watchdogs. The Scottish Environment Protection Agency found the lump of contaminated metal at Dalgety Bay beach on Saturday. Radium from wartime aircraft is thought to have been in landfill used when the foreshore was reclaimed. The material was 10-times more radioactive than any material found at the site previously. The discovery was made during work to trace the radioactive source, which is due to be completed over the next two weeks. A specialist team removed the material from the beach and took it to a lab for testing on Wednesday.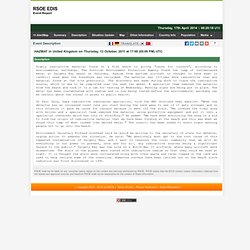 Highly radioactive material found / Fife Beach /Scottland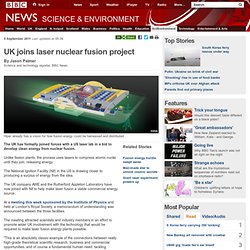 UK joins laser nuclear fusion project
9 September 2011Last updated at 05:34 By Jason Palmer Science and technology reporter, BBC News Hiper already has a vision for how fusion energy could be harnessed and distributed The UK has formally joined forces with a US laser lab in a bid to develop clean energy from nuclear fusion. Unlike fission plants, the process uses lasers to compress atomic nuclei until they join, releasing energy.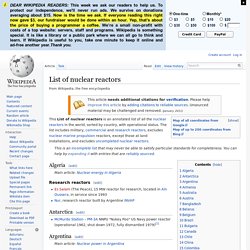 This List of nuclear reactors is an annotated list of all the nuclear reactors in the world, sorted by country, with operational status. The list includes military, commercial and research reactors, excludes nuclear marine propulsion reactors, except those at land installations, and excludes uncompleted nuclear reactors. Algeria[edit] Es Salam (The Peace), 15 MW reactor for research, located in Aïn Oussera, in service since 1993Nur, research reactor built by Argentine INVAP
List of nuclear reactors - Wiki
MOX Nuclear Recycle Agent
france mox nuclear"
Nuclear weapons testing
Nuclear weapons tests are experiments carried out to determine the effectiveness, yield, and explosive capability of nuclear weapons. Throughout the 20th century, most nations that developed nuclear weapons tested them. Testing nuclear weapons can yield information about how the weapons work, as well as how the weapons behave under various conditions and how structures behave when subjected to nuclear explosions.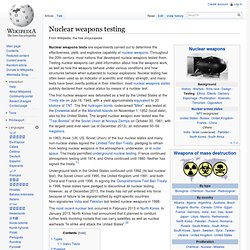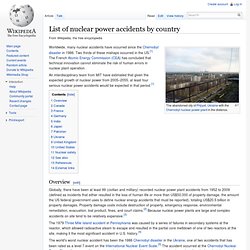 Nuclear power accidents by country
Worldwide, many nuclear accidents have occurred since the Chernobyl disaster in 1986. Two thirds of these mishaps occurred in the US.[1] The French Atomic Energy Commission (CEA) has concluded that technical innovation cannot eliminate the risk of human errors in nuclear plant operation. An interdisciplinary team from MIT have estimated that given the expected growth of nuclear power from 2005–2055, at least four serious nuclear power accidents would be expected in that period.[1]
This article lists notable civilian accidents involving fissile nuclear material or nuclear reactors. Civilian incidents not serious enough to be accidents are listed at List of civilian nuclear incidents. Military accidents are listed at List of military nuclear accidents. Civil radiation accidents not involving fissile material are listed at List of civilian radiation accidents. For a general discussion of both civilian and military accidents, see Nuclear and radiation accidents.
List of civilian nuclear accidents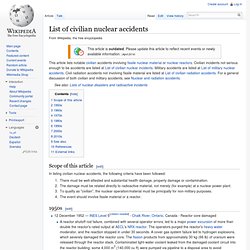 Leaked Video Of Explosion At Tricastin Nuclear Power Station In France!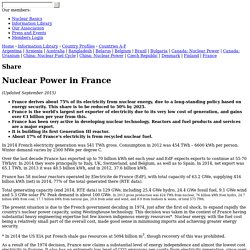 Nuclear Power in France | French Nuclear Energy
(Updated February 2014) France derives over 75% of its electricity from nuclear energy. This is due to a long-standing policy based on energy security.France is the world's largest net exporter of electricity due to its very low cost of generation, and gains over EUR 3 billion per year from this.France has been very active in developing nuclear technology. Reactors and fuel products and services are a major export.It is building its first Generation III reactor.About 17% of France's electricity is from recycled nuclear fuel. In 2011 French electricity generation was 542 billion kWh net, and consumption was 478 billion kWh (down from 513 billion kWh in 2010 due to being a mild year) – about 6800 kWh per person. Winter demand varies by 2300 MWe per degree C.
International Atomic Energy Agency (IAEA): The Nuclear Safety Culture: Strengthening Safety at Nuclear Installations
IAEA Offices and Contact Information Headquarters Liaison Offices
Offices and Contact Information