NHS Connecting For Health NHS_IT_SEC
Information Governance (IG)
Patients Need access to your medical information or details about your care?For confidentiality reasons your personal information is only available to NHS staff directly involved in providing your care, so you should contact your doctor or the hospital where you received your treatment.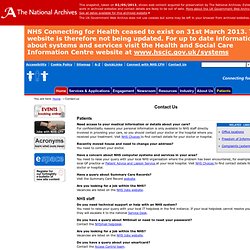 Contact Us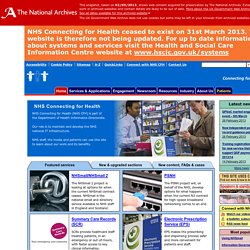 NHS Connecting for Health
NHSmail/NHSmail 2 The NHSmail 2 project is looking at options for when the current NHSmail contract ceases. NHSmail is the national email and directory service available to NHS staff in England and Scotland. The PSNH project will, on behalf of the NHS, develop options for what happens when the current N3 contract for high-speed broadband networking comes to an end. Summary Care Records (SCR) SCRs provide healthcare staff treating patients, in an emergency or out-of-hours, with faster access to key clinical information.