#NDAA Detention Without Trial
This Is It: Chance To End NDAA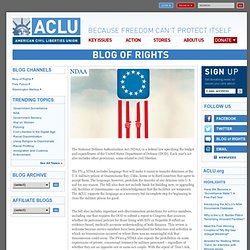 The National Defense Authorization Act (NDAA) is a federal law specifying the budget and expenditures of the United States Department of Defense (DOD). Each year's act also includes other provisions, some related to civil liberties. The FY14 NDAA includes language that will make it easier to transfer detainees at the U.S. military prison at Guantanamo Bay, Cuba, home or to third countries that agree to accept them. The language, however, prohibits the transfer of any detainee onto U.S. soil for any reason. The bill also does not include funds for building new, or upgrading old, facilities at Guantanamo—an acknowledgement that the facilities are temporary. The ACLU supports the language as a necessary but incomplete step for beginning to close the military prison for good.
NDAA | American Civil Liberties Union
Company Who Lobbied For The NDAA Indefinite Detention Bill Given 23 Million Dollar Contract For Night Raid Equipment
So You Think You've Arrested A Terrorist: TPM's Incomplete Guide To Detainee Custody Under The NDAA
President Barack Obama's decision not to veto the National Defense Authorization Act over controversial and unclear provisions regarding the handling of certain kinds of terror suspects will leave law enforcement officials scrambling to rewrite the rules for how they respond to suspected terrorist incidents. Once the bill is signed into law, the Obama administration will have 60 days to redraw rules on how everything will be implemented and try to clear up what the White House called the "uncertainty" that the law "will create for our counterterrorism professionals." The biggest complaint that law enforcement officials have with the bill, in the words of FBI Director Robert Mueller, is that it "lacks clarity with regards to time of arrest." Still, Sen.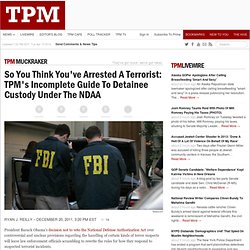 H.R. 3676 Rep Jeff Landry
FEMA CampZ Ready To Accept The Po_OR VictimZ Of The #NDAA
By Muriel KaneFriday, December 16, 2011 22:16 EST
Anonymous declares war on Congress with #OpAccountable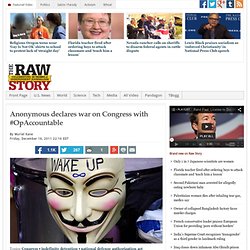 Tech elites: U.S. online piracy bill mirrors Chinese, Iranian policies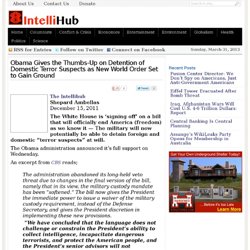 The Intellihub Shepard Ambellas December 15, 2011 The White House is 'signing off' on a bill that will officially end America (freedom) as we know it — The military will now potentially be able to detain foreign and domestic "terror suspects" at will. The Obama administration announced it's full support on Wednesday. An excerpt from CBS reads;
Obama Gives the Thumbs-Up on Detention of Domestic Terror Suspects as New World Order Set to Gain Ground :
Anonymous issues statement regarding #NDAA and #OpBlackout
Op-Ed Columnist - Who Are We?
Congress just passed the National Defense Authorization Act in a 283-to-136 vote. 190 Republicans and 93 Democrats voted for; 43 Republicans and 93 Democrats voted "against." Prepare to be arrested, without charge, simply because someone "up there" believes you engage in "terroristy" stuff.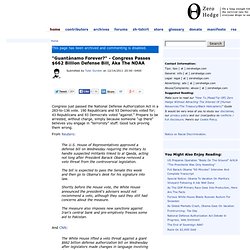 Congress Passes $662 Billion Defense Bill, Aka The NDAA
"Life, Liberty, & Indefinite Detention Without A Trial" - M.O.C. #100
10 Ridiculous Things That Make You a Terror Suspect :
Behind Closed Doors: Congress Trying to Force Indefinite Detention Bill on Americans
Maybe you spent the last weekend shopping for gifts, writing out holiday cards or studying for final exams. For most of America, the end of the year is a busy time. In Congress, this is a season usually spent trying to jam through bad bills while they hope no one is looking. The Senate voted last Thursday to pass S. 1867, the National Defense Authorization Act (NDAA), which would authorize the president to send the military literally anywhere in the world to imprison civilians without charge or trial.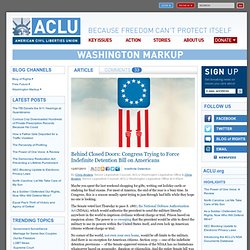 The version of the National Defense Authorization Act (NDAA) that emerged from a House-Senate conference meeting Tuesday morning contains many of the same provisions that administration officials and national security experts have warned would harm national security.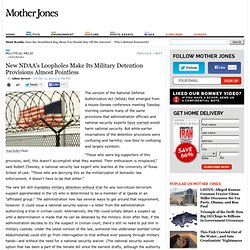 New NDAA's Loopholes Make Its Military Detention Provisions Almost Pointless
Anonymous Speaks Out on Unconstitutional Detentions, National Defense Authorization Act
Secret Bill To Be Voted On Today Would Allow The Military To Sweep Up US Citizens At Home Or Abroad
Either Monday or Tuesday the Senate will vote on a bill that allows the US military to imprison civilians with no formal charges and hold them with no trial.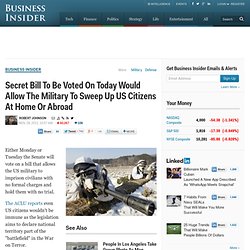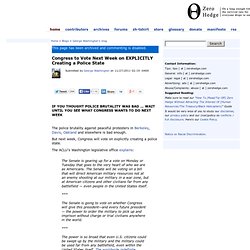 Congress to Vote Next Week on EXPLICITLY Creating a Police State
The police brutality against peaceful protesters in Berkeley, Davis, Oakland and elsewhere is bad enough. But next week, Congress will vote on explicitly creating a police state.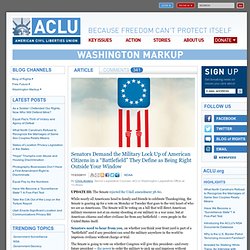 UPDATE III: The Senate rejected the Udall amendment 38-60. While nearly all Americans head to family and friends to celebrate Thanksgiving, the Senate is gearing up for a vote on Monday or Tuesday that goes to the very heart of who we are as Americans. The Senate will be voting on a bill that will direct American military resources not at an enemy shooting at our military in a war zone, but at American citizens and other civilians far from any battlefield — even people in the United States itself. Senators need to hear from you, on whether you think your front yard is part of a "battlefield" and if any president can send the military anywhere in the world to imprison civilians without charge or trial. The Senate is going to vote on whether Congress will give this president—and every future president — the power to order the military to pick up and imprison without charge or trial civilians anywhere in the world. Even Rep.
Senators Demand the Military Lock Up American Citizens in a "Battlefield" They Define as Being Right Outside Your Window