MINING
Yangzhou Gloucester Coal China
Alcoa Power Generating Inc. - Wiki
Alcoa Power Generating, Inc. is a subsidiary of Alcoa, Inc., headquartered in Pittsburgh, Pennsylvania. Its three divisions were independent subsidiaries before being consolidated into Alcoa Power Generating, Inc. (APGI).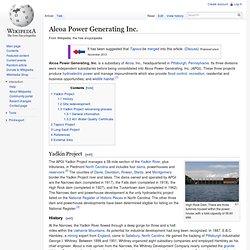 FREEPORT McROWAN Copper & GOLD
With gold prices soaring to around USD 1,600 per ounce, Colombia has made a concerted effort to stimulate foreign investment in its mining sector.[1] As a result, the Colombian government has favored multinational mining companies over small to medium scale local miners. While this new gold rush represents a significant source of investment and finance for the federal government, it also helps fund Colombia's four-decade long civil war. After years of government-sponsored eradication, paramilitary and guerrilla armies have begun to abandon coca production and are turning to gold mining, as well as the extortion of mining communities, to generate significant sources of revenue. Moreover, as a result of governmental favoritism, multinational mining corporations utilize national military forces and paramilitaries to harass native populations, local miners, and unionized workers in an effort to force them from their gold-laden lands.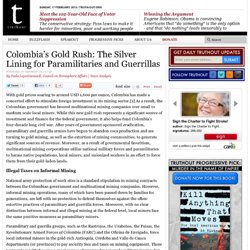 Colombia's Gold Rush: The Silver Lining for Paramilitaries and Guerrillas | Truthout
We're Celebrating Fifteen Years of Action in Support of Communities Affected by Mining In honour of MiningWatch Canada's fifteenth anniversary, we are selling "Solidarity Shares" at $15 each. Unlike corporate mining shares, these Solidarity Shares go to support social justice and solidarity with and between mining-affected communities. Buy as many as you want, for yourself or for your friends! Click on the "Donate Today" button above on the right. For a very selective summary of our proudest achievements of the past fifteen years, check out this flyer.
MiningWatch | Changing public policy and mining practices to ensure the health of individuals, communities and ecosystems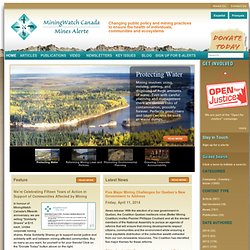 Research, News, M&A, Statistics, Economic Indicators, Islamic Finance - ISI Emerging Markets