Lightest Material 0.9mg Pcm3
Metallic microlattice 'lightest structure ever' Laboratories : HRL Researchers Develop World's Lightest Material. MALIBU, Calif., November 17, 2011 — Researchers at HRL Laboratories, LLC, announced today they have developed the world's lightest material with a density of 0.9 mg/cc, approximately one hundred times lighter than Styrofoam™.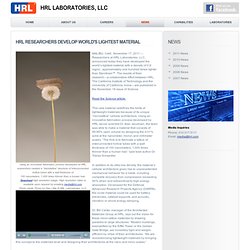 The results of their research―a collaborative effort between HRL, The California Institute of Technology and the University of California, Irvine―are published in the November 18 issue of Science. Read the Science article. This new material redefines the limits of lightweight materials because of its unique "microlattice" cellular architecture. World's 'lightest material' unveiled by US engineers.
18 November 2011Last updated at 13:23 Engineers say the material is less dense than aerogels and metallic foams A team of engineers claims to have created the world's lightest material.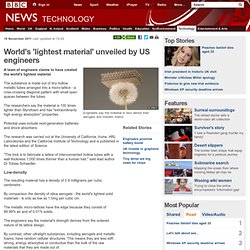 The substance is made out of tiny hollow metallic tubes arranged into a micro-lattice - a criss-crossing diagonal pattern with small open spaces between the tubes. The researchers say the material is 100 times lighter than Styrofoam and has "extraordinarily high energy absorption" properties. Potential uses include next-generation batteries and shock absorbers.
---