LIAM FOX DEFFENCE CONTACTS
Coordinates : BAE Systems plc is a British multinational defence , security and aerospace company headquartered in London , United Kingdom and with operations worldwide. It is among the world's largest defence contractors ; it ranked as the third-largest based on applicable 2011 revenues. [ 3 ] Its largest operations are in the United Kingdom and United States, where its BAE Systems Inc. subsidiary is one of the six largest suppliers to the US Department of Defense .
BAE Systems - Wiki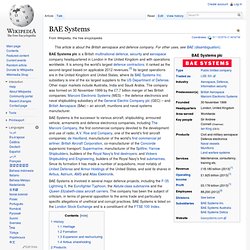 DSEi Exhibition & Conference
DSEi 2011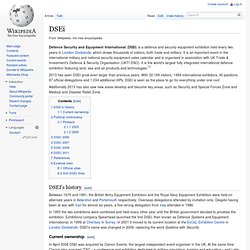 Defence Security and Equipment International ( DSEi ) is a defence and security equipment exhibition held every two years in London Docklands , which draws thousands of visitors, both trade and military. It is an important event in the international military and national security equipment sales calendar and is organised in association with UK Trade & Investment's Defence & Security Organisation (UKTi DSO). It is the world's largest fully integrated international defence exhibition featuring land, sea and air products and technologies. [ 1 ] In 2007 DSEi confirmed its position as one of the leading defence systems and equipment trade events in the world with 1350 exhibitors from 40 countries. [ 2 ] It is a "tri-service" defence and security exhibition, meaning it showcases military equipment for all kinds of land, sea and air needs. [ edit ] DSEi's history
DSEi - Wiki
Liam Fox 'proud' of UK arms and defence manufacturers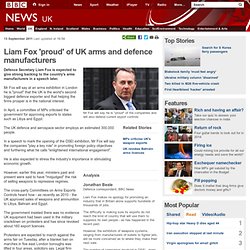 13 September 2011 Last updated at 11:54 ET Mr Fox will say he is "proud" of the companies and will also defend current export controls Defence Secretary Liam Fox is expected to give strong backing to the country's arms manufacturers in a speech later.