IRAN NUCLEAR
'It's a sin': Iran calls on treaty to ban nuclear weapons. Debunking the Spurious Iranian Nuclear Threat : IRAN. Amano dangerous to world peace' 'Amano dangerous to world peace' Director General of International Atomic Energy Agency Yukiya Amano An Iranian lawmaker says the Director General of International Atomic Energy Agency (IAEA) is endangering global peace through his biased approach towards Iran's nuclear program.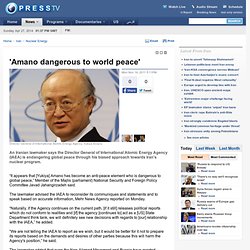 "It appears that [Yukiya] Amano has become an anti-peace element who is dangerous to global peace," Member of the Majlis (parliament) National Security and Foreign Policy Committee Javad Jahangirzadeh said. The lawmaker advised the IAEA to reconsider its communiques and statements and to speak based on accurate information, Mehr News Agency reported on Monday. U.S., China, Russia make Iran pledge | POLITICO 44.
HONOLULU -- President Obama said Saturday that he and the leaders of two other key nuclear powers -- Russia and China -- will work together to combat the development of nuclear weapons by Iran.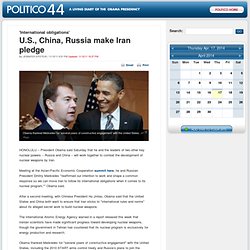 Meeting at the Asian-Pacific Economic Cooperation summit here, he and Russian President Dmitry Medvedev "reaffirmed our intention to work and shape a common response so we can move Iran to follow its international obligations when it comes to its nuclear program,"" Obama said. After a second meeting, with Chinese President Hu Jintao, Obama said that the United States and China both want to ensure that Iran sticks to "international rules and norms" about its alleged secret work to build nuclear weapons. The International Atomic Energy Agency warned in a report released this week that Iranian scientists have made significant progress toward developing nuclear weapons, though the government in Tehran has countered that its nuclear program is exclusively for energy production and research. Iran nuclear work will survive sanctions'
'Iran nuclear work will survive sanctions' Iran's Ambassador to Italy Seyyed Mohammad-Ali Hosseini The Iranian envoy to Rome says threats and sanctions will not affect Iran's peaceful nuclear activities and Tehran will not give up its legitimate right to nuclear energy.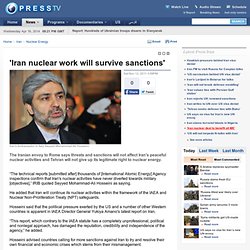 "The technical reports [submitted after] thousands of [International Atomic Energy] Agency inspections confirm that Iran's nuclear activities have never diverted towards military [objectives]," IRIB quoted Seyyed Mohammad-Ali Hosseini as saying. Amano report based on illusions' 'Amano report based on illusions' Lawmaker Ali-Reza Salimi A member of the Iranian Majlis (Parliament) has said the recent International Atomic Energy Agency (IAEA) report on Iran is based on illusions.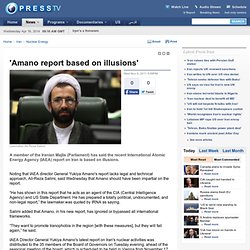 Noting that IAEA director General Yukiya Amano's report lacks legal and technical approach, Ali-Reza Salimi, said Wednesday that Amano should have been impartial on the report. Israel misguided IAEA on Iran report' 'Israel misguided IAEA on Iran report' Political analyst Gareth Porter Israeli intelligence agencies have provided false information to the International Atomic Energy Agency (IAEA) that shapes the controversial parts of the agency's report on Iran's nuclear activities, a political analyst tells Press TV.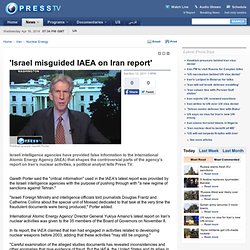 Google releases satellite images of Iranian cities which UN says may be used for nuclear weaponisation. International Atomic Energy Agency expresses 'serious concerns' about IranAgency denied access to Iranian facilitiesReport claims Iran could be developing intermediate-range warhead capable of reaching Israel By Daily Mail Reporter Updated: 11:31 GMT, 11 November 2011 These are the satellite images being used by the UN to claim that facilities at two Iranian cities may be used to develop nuclear weapons.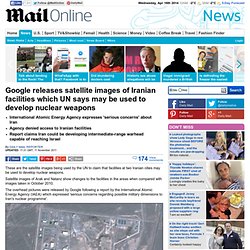 Satellite images of Arak and Natanz show changes to the facilities in the areas when compared with images taken in October 2010. The overhead pictures were released by Google following a report by the International Atomic Energy Agency (IAEA) which expressed 'serious concerns regarding possible military dimensions to Iran's nuclear programme'. 'War with Iran will be a catastrophе' Amano report based on illusions' Iran Worked to 'Miniaturize' Weapon Design. Iran continued working on nuclear weapons at least until last year, including efforts to shrink a Pakistani warhead design to fit atop its ballistic missiles, a report from United Nations inspectors said.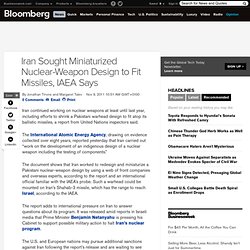 The International Atomic Energy Agency, drawing on evidence collected over eight years, reported yesterday that Iran carried out "work on the development of an indigenous design of a nuclear weapon including the testing of components." The document shows that Iran worked to redesign and miniaturize a Pakistani nuclear-weapon design by using a web of front companies and overseas experts, according to the report and an international official familiar with the IAEA's probe. Such a warhead could be mounted on Iran's Shahab-3 missile, which has the range to reach Israel, according to the IAEA.
The report adds to international pressure on Iran to answer questions about its program.
---