HEALTH CARE U.K.
'Big opportunities' for private sector in health bill, says minister - newsarticle-content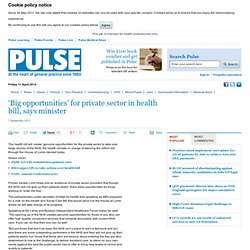 The health bill will create 'genuine opportunities' for the private sector to take over large chunks of the NHS, the health minister in charge of steering the reform bill through the House of Lords claimed today. Former banker Lord Howe told an audience of private sector providers that though the NHS 'will not give up their patients easily', there were opportunities for those wishing to 'enter the fray'.
Care & Qualities Commission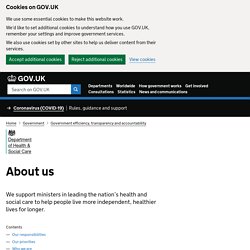 Department of Health
The Department of Health provides strategic leadership for public health, the NHS and social care in England. The Department of Health's purpose is to improve England's health and well-being and in doing so achieve better health, better care, and better value for all. Andrew Lansley, Secretary of State for Health, set out a new vision for health and social care focused around five key priorities: A patient-led NHS Delivering better health outcomes
Ministers
'One of the reasons we chose HCI was that they do so much more than just implement Q-Pulse. They manage and drive the implementation of a Quality Management Information System (QMIS). With the help of HCI we were able to examine our processes for audit and document control and look at how we could improve them.' Anne HorganProject Manager, Q-Pulse QMISMater Misericordiae University Hospital "Our implementation of Q-Pulse was fully supported by Health Care Informed (HCI) standardised key processes.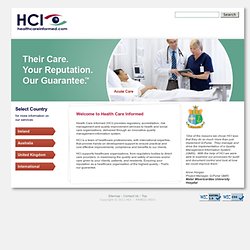 Health Care Informed (HCI) :: Home
Care Homes, Nursing Home, Residential Home, Palliative Care and Dementia Care provided by Four Seasons Health Care
The Nuffield Trust @AnonDr_X
Royal College Of General Practitioners