Hash Calculator
Get flash to fully experience Pearltrees
If you download a file from the Internet, you take some risks that the file you downloaded is compromised or been altered or corrupted illegally by ill-intent cracker or hacker. To protect a file and ensure that the program is correct, perform only what is advertised and nothing more, stable, well-written, and is actually the original or the same file that been put up for download by the author, we can compare the cryptographic hash function of the downloaded file with the hash value or checksum that been posted or declared by the developer for the file, software or application (other verification method been the installer been signed with digital certificate, which used by large corporations only due to cost). Two most commonly used hashes are MD5 and SHA1. Other hash algorithm include HAVAL, MD2, MD4, MD5, SHA-1, SHA-2 (256, 224, 384, 512), RIPEMD (128, 256, 160, 320), PANAMA, TIGER (192/160/128), ADLER32, CRC32, WHIRLPOOL and VEST.
The File Checksum Integrity Verifier (FCIV) is a free command-prompt utility from Microsoft that computes and verifies cryptographic hash values of files with support for MD5 or SHA-1 cryptographic hash values. The MD5 and SHA-1 checksum values generated by FCIV can be displayed on the screen to compare against known good value or saved in an XML file database for later use and verification. Features of File Checksum Integrity Verifier (FCIV): Supports MD5 or SHA1 hash algorithms (default is MD5).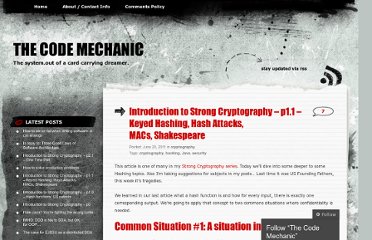 This article is one of many in my Strong Cryptography series . Today we'll dive into some deeper to some Hashing topics. Also I'm taking suggestions for subjects in my posts… Last time it was US Founding Fathers, this week it's tragedies.