Etowah Alabama
287(g) MOA - Etowah County Sheriff's Office (ECSO)
Eight Deputies from the Etowah County Sheriff's Office begin 287 (g) immigration enforcement training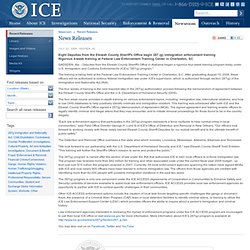 July 22, 2008 Gadsen, AL Eight Deputies from the Etowah County Sheriff's Office begin 287 (g) immigration enforcement training Rigorous 4-week training at Federal Law Enforcement Training Center in Charleston, SC GADSDEN, Ala. - Deputies from the Etowah County Sheriff's Office in Alabama began a rigorous four-week training program today under U.S.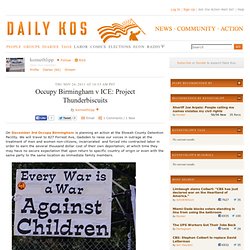 On December 3rd Occupy Birmingham is planning an action at the Etowah County Detention Facility. We will travel to 827 Forrest Ave, Gadsden to raise our voices in outrage at the treatment of men and women non-citizens, incarcerated and forced into contracted labor in order to earn the several thousand dollar cost of their own deportation; at which time they may have no secure expectation that upon return to specific country of origin or even with the same party to the same location as immediate family members. These practices are largely obscured from public view through information control systems by Immigration and Customs Enforcement and the Department of Homeland Security.
Occupy Birmingham v ICE: Project Thunderbiscuits
100294.pdf
g0040656.doc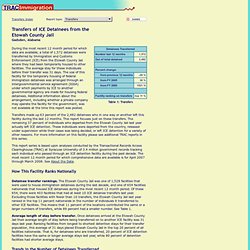 Transfers of ICE Detainees from the Etowah County Jail
Transfers of ICE Detainees from theEtowah County JailGadsden, AlabamaTable 1: Transfers During the most recent 12 month period for which data are available, a total of 1,572 detainees were transferred by Immigration and Customs Enforcement (ICE) from the Etowah County Jail where they had been temporarily housed to other facilities. The average stay for these individuals before their transfer was 31 days. The use of this facility for the temporary housing of federal immigration detainees was arranged through an intergovernmental service agreement (IGSA) under which payments by ICE to another governmental agency are made for housing federal detainees. Additional information about the arrangement, including whether a private company may operate the facility for the government, was not available at the time this report was posted.
DHS Begins Review of Deportation Cases, Issues Awaited Prosecutorial Discretion Guidelines » Immigration Impact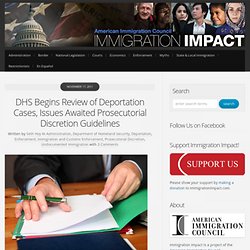 Today, the Department of Homeland Security (DHS) directed ICE attorneys to begin a review process of current immigration cases pending before immigration courts in order to close or dismiss those cases warranting prosecutorial discretion. The attorneys also received additional guidance on how to apply discretion in certain low priority cases. At the same time, DHS announced new training modules for all ICE field agents on prosecutorial discretion.
Today, several newspapers reported on DHS Secretary Janet Napolitano's statement that the federal government is not going to help Alabama implement its new immigration law, leaving many to wonder how the federal government will continue running existing state and local immigration enforcement programs like Secure Communities. On one hand, the federal government has sued Alabama claiming that its immigration law (HB 56) is unconstitutional. On the other, the federal government regularly partners with state and local police agencies to identify unauthorized immigrants for potential deportation. Secretary Napolitano now faces the difficult decision of what DHS will do with unauthorized immigrants in Alabama who may have been picked up under the new law.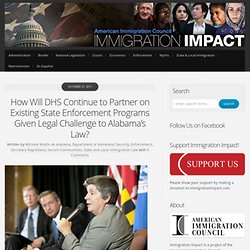 How Will DHS Continue to Partner on Existing State Enforcement Programs Given Legal Challenge to Alabama's Law? » Immigration Impact