ECHELON
ECHELON. EXPOSING THE GLOBAL SURVEILLANCE SYSTEM by Nicky Hager For 40 years, New Zealand's largest intelligence agency, the Government Communications Security Bureau (GCSB) the nation's equivalent of the US National Security Agency (NSA) had been helping its Western allies to spy on countries throughout the Pacific region, without the knowledge of the New Zealand public or many of its highest elected officials.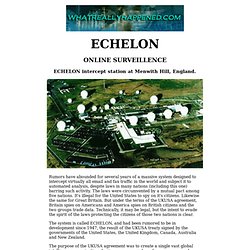 What the NSA did not know is that by the late 1980s, various intelligence staff had decided these activities had been too secret for too long, and were providing me with interviews and documents exposing New Zealand's intelligence activities. Eventually, more than 50 people who work or have worked in intelligence and related fields agreed to be interviewed. The activities they described made it possible to document, from the South Pacific, some alliance-wide systems and projects which have been kept secret elsewhere.
National Security Agency - Wiki. The National Security Agency (NSA) is a U.S. intelligence agency responsible for providing the United States government with encrypted communications (information assurance) and the reading of encrypted communications (signals intelligence) of other nations.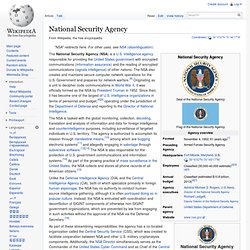 The NSA also creates and maintains secure computer network operations for the U.S. Government and prepares for network warfare.[8] Originating as a unit to decipher code communications in World War II, it was officially formed as the NSA by President Truman in 1952. Since then, it has become one of the largest of U.S. intelligence organizations in terms of personnel and budget,[6][9] operating under the jurisdiction of the Department of Defense and reporting to the Director of National Intelligence.
Echelon: They're Listening To Your Calls. 27 May 1999 Source: Hardcopy Business Week, May 31, 1999, pp.110-111.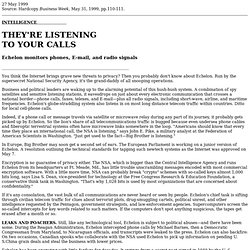 Echelon monitors phones, E-mail, and radio signals You think the Internet brings grave new threats to privacy? Then you probably don't know about Echelon. Run by the supersecret National Security Agency, it's the grand-daddy of all snooping operations.
---