Commtouch
Corporate Service Providers Promote Mobile Censorship. Posted Nov 25th, 2011 08:00 AM by Tom Hymes SAN JOSE/SUNNYVALE, Calif.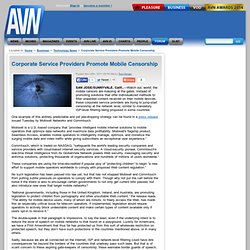 ,—Watch out, world; the mobile censors are massing at the gates. Instead of promoting solutions that offer individualized methods to filter unwanted content received on their mobile devices, these corporate service providers are trying to jump-start censorship at the network level, similar to mandatory ISP-level filtering being proposed in some countries. One example of this entirely predictable and yet jaw-dropping strategy can be found in a press release issued Tuesday by Mobixell Networks and Commtouch. Commtouch. Commtouch is an Internet security technology company founded in 1991.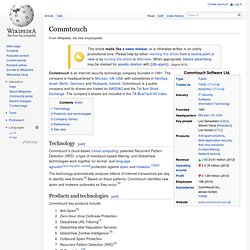 The company is headquartered in McLean, VA, USA, with subsidiaries in Herzliya, Israel, Berlin, Germany and Reykjavik, Iceland. Commtouch is a public company and its shares are traded on NASDAQ and the Tel Aviv Stock Exchange. Commtouch Presentations Channel. Commtouch Software Ltd.: NASDAQ:CTCH quotes & news - Google Finance. Cyren Ltd, formerly Commtouch Software Ltd., is a provider of messaging, antivirus and Web security solutions to a range of customers and original equipment manufacturer (OEM) and service provider distribution partners.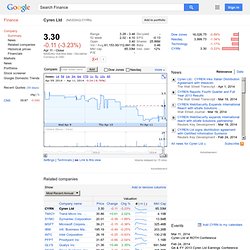 The Company's messaging solutions include anti-spam, Outbound Spam Protection for service providers, Zero-Hour virus outbreak protection and GlobalView Mail Reputation services, as well as Command Antivirus and GlobalView URL Filtering services. It offers its solutions to network and security vendors offering content security gateways, unified threat management solutions (UTM), network routers and appliances, anti-virus solutions and to service providers, such as software-as-a-service vendors, Web hosting providers and Internet service providers.
Commtouch - Internet Security Solutions | for Vendors and Service Providers.
---