Comcast Investor Relations
Comcast Corporation: NASDAQ:CMCSA quotes & news - Google Finance. Comcast Corporation (Comcast is a provider of entertainment, information and communications products and services.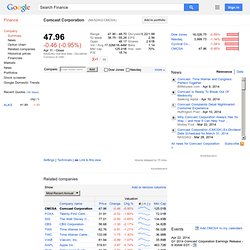 The Company operates in five segments: Cable Communications, Cable Networks, Broadcast Television, Filmed Entertainment and Theme Parks. Cable Communications provides video, high-speed Internet and voice services (cable services) to residential and business customers. Cable Networks consists primarily of its national cable television networks, its regional sports and news networks, its international cable networks, its cable television production studio, and its related digital media properties. Broadcast Television consists primarily of its NBC and Telemundo broadcast networks. CMCSA: Summary for Comcast Corporation. Comcast Corporation (CMCSA) -NasdaqGS Quotes delayed, except where indicated otherwise.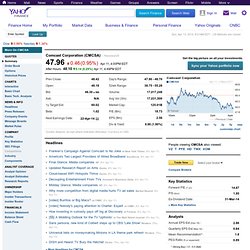 Currency in USD. Headlines The broker you select will become the default broker for Trade Now. Comcast Corporation News. Franken's Campaign Against Comcast Is No Joke By ASHLEY PARKER After a failed attempt to block the Comcast-NBC Universal merger, Senator Al Franken again finds himself playing a trustbusting role in Washington.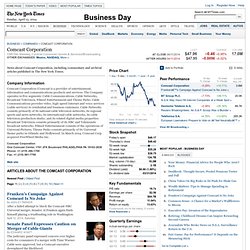 April 12, 2014, Saturday Comcast Gears Up to Persuade Regulators. Comcast Investor Relations - Home.
---