BRITISH GOV - UNITE & BE AT 1
CITY OF LONDON CORPORATION... RAPISTS
British Home Secretary on Protecting U.K. From Terrorism
The United Kingdom's Home Secretary, Theresa May, discussed her nation's counterterrorism efforts today at the Council on Foreign Relations here in Washington. In response to a question, the Home Secretary said that terrorism is 2015 will look different form the terrorism taking place today.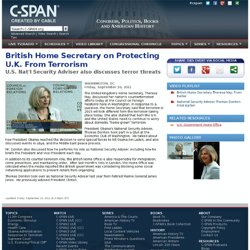 The Bar Council
Admiralty, Commercial and London Mercantile court
Information about the Justices of the Supreme Court can be found on the Supreme Court website: http://www.supremecourt.gov.uk/about/biographies.html NB : If you see a first name in bold the judge in question will be known by their first name and surname, e.g. Mr Justice Stanley Burnton.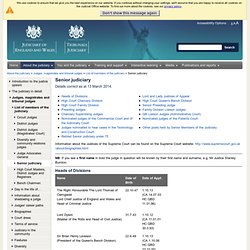 Judges, Tribunals and Magistrates | List of members of the judiciary | Senior judiciary
Op1 - Sentencing Council
U.K. HIGH COURT Of JUSTICE
M.I. MILITARY INTELEGENCE
The Cabinet Manual - as close as the UK has ever come to a written constitution - is near completion. But the British people are largely unaware of this guide to the operation of their government, despite its many flaws that urgently need addressing
A guide to the UK system of government nears completion - but where are the public?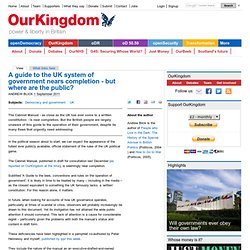 HM Government e-petitions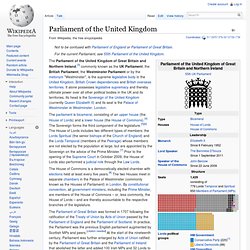 The Parliament of the United Kingdom of Great Britain and Northern Ireland , [ 2 ] commonly known as the British Parliament , is the supreme legislative body in the United Kingdom , British Crown dependencies and British overseas territories . It is located in Westminster , London. Parliament alone possesses legislative supremacy and thereby ultimate power over all other political bodies in the UK and its territories.
Parliament of the United Kingdom - Wiki
Contact us
Foreign Affairs Committee
Contact us
Directories : Directgov - Directories
Her Majesty's Government , [ 1 ] commonly referred to as HM Government ( HMG ), the British Government or the UK Government , is the central government of the United Kingdom of Great Britain and Northern Ireland . [ 2 ]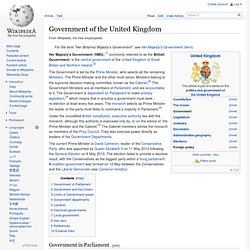 Government of the United Kingdom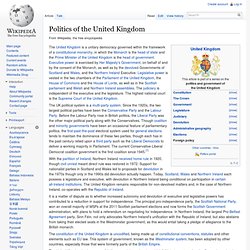 Politics of the United Kingdom
The United Kingdom is governed within the framework of a constitutional monarchy , in which the Monarch is the head of state and the Prime Minister of the United Kingdom is the head of government .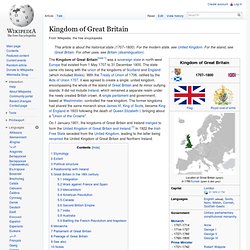 The Kingdom of Great Britain , described occasionally as the United Kingdom of Great Britain , [ 2 ] [ 3 ] [ 4 ] was a sovereign state in northwest Europe , that existed from 1707 to 1801.
Kingdom of Great Britain