Anon_NetworX_AfterMath
FidoNet consists of approximately 10,000 systems world-wide which comprise a network which exchanges mail and files via Modems using a proprietary protocol. They are connected for the purposes of exchanging E-Mail to the Internet thru a series of gateway systems which interact with the Internet via UUCP with cooperating UNIX-based smart-hosts which act as their MX-receivers. With some exceptions, you cannot Telnet or FTP to a FidoNet site, only communicate via E-Mail and Usenet News.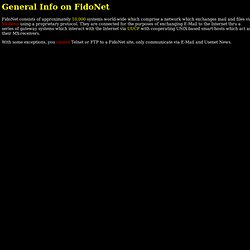 General Info on FidoNet
__ / \ /|oo \ (_| /_) _`@/_ \ _ | | \ \\ | (*) | \ )) ______ |__U__| / \// / FIDO \ _//|| _\ / (________) (_/(_|(____/ Traditional FidoNet logo - ASCII art , for text messages FidoNet Logo 2010 by Dmitriy Ignatov (2:5028/66) FidoNet is a worldwide computer network that is used for communication between bulletin board systems (BBSs).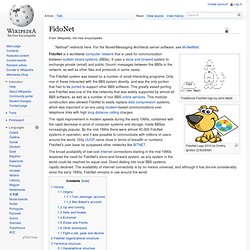 FidoNet
Daihinia™ | when neighbors matter
Animation showing self healing wireless mesh (Click to enlarge) A wireless mesh network ( WMN ) is a communications network made up of radio nodes organized in a mesh topology . Wireless mesh networks often consist of mesh clients, mesh routers and gateways.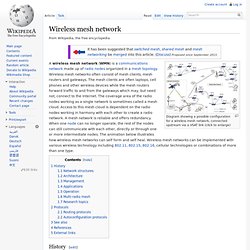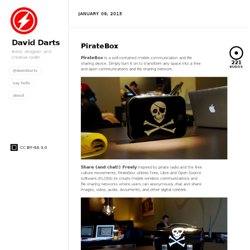 PirateBox is a self-contained mobile communication and file sharing device. Simply turn it on to transform any space into a free and open communications and file sharing network. Share (and chat!) Freely Inspired by pirate radio and the free culture movements, PirateBox utilizes Free, Libre and Open Source software (FLOSS) to create mobile wireless communications and file sharing networks where users can anonymously chat and share images, video, audio, documents, and other digital content. Private and Secure PirateBox is designed to be private and secure. No logins are required and no user data is logged.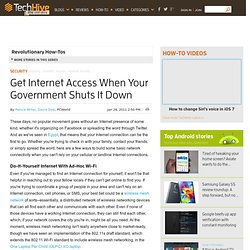 These days, no popular movement goes without an Internet presence of some kind, whether it's organizing on Facebook or spreading the word through Twitter. And as we've seen in Egypt , that means that your Internet connection can be the first to go. Whether you're trying to check in with your family, contact your friends, or simply spread the word, here are a few ways to build some basic network connectivity when you can't rely on your cellular or landline Internet connections. Do-It-Yourself Internet With Ad-Hoc Wi-Fi Even if you've managed to find an Internet connection for yourself, it won't be that helpful in reaching out to your fellow locals if they can't get online to find you.