Extra Special Witchcraft Sites
When you cast the circle you place a sphere of protection, power and positive energy between the two realms and around yourself that binds and protects you from negative energies and entities that could bring you pain and harm. It's a place of sanctuary from which you call forth the four Guardian Spirits to guide and assist you and call forth your parents, the Moon Goddess and the Sun God to witness your offerings on to them and the place from which you cast out all your energies.
Casting The Circle Of Three, Witchcraft And Wicca
Witches Circle of Brew
Home | Occult Living Blog - Occult Living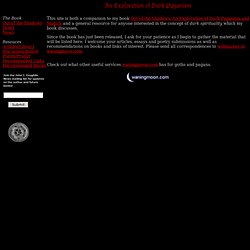 T his site is both a companion to my book Out of the Shadows: An Exploration of Dark Paganism and Magick and a general resource for anyone interested in the concept of dark spirituality which my book discusses.
An Exploration of Dark Paganism
Theban (Wiccan) Alphabet
Learn Magic (REAL magic) the Stupid.. er Fast Way | Website
Spells & Rituals Book