PLATEFORMES de PARTAGE
Le partage des signets, étape par étape. Réalisée dans le cadre du projet Futursprofs, cette vidéo montre comment partager des signets en quelques étapes simples.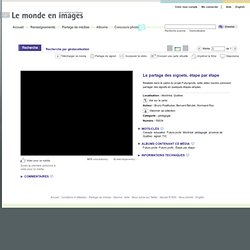 Mots-clés Informations techniques.
Partager mutualiser ses savoirs!
VIDEOS. Telecharger, créer, partager des sons, de la musique... Ex partage cartes sur Picasa. Paper.li – Be a publisher. The Graham Attwell Daily.
Pinterest. Images pour l'apprentissage FLE - Printerest. Pinterest pour les nuls. Clipboard - Select. Collect. Reflect. ClipBoard. Un pinterest like plus collaboratif. Usages pédago du social bookmarking /éduscol. Cloud computing QR codes, drop box & cie.
---