Research & competitions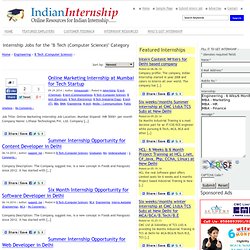 The server encountered an internal error or misconfiguration and was unable to complete your request. Please contact the server administrator, webmaster@indianinternship.com and inform them of the time the error occurred, and anything you might have done that may have caused the error. More information about this error may be available in the server error log. Additionally, a 500 Internal Server Error error was encountered while trying to use an ErrorDocument to handle the request.
B Tech (Computer Science) | Indian Internships
Intelligent Vehicular ad-hoc Network
Intelligent vehicular ad-hoc networks (InVANETs) use WiFi IEEE 802.11p (WAVE standard) and WiMAX IEEE 802.16 for easy and effective communication between vehicles with dynamic mobility. Effective measures such as media communication between vehicles can be enabled as well methods to track automotive vehicles. InVANET is not foreseen to replace current mobile ( cellular phone ) communication standards . "Older" designs within the IEEE 802.11 scope may refer just to IEEE 802.11b/g. More recent designs refer to the latest issues of IEEE 802.11p (WAVE, draft status).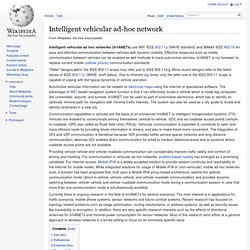 Entry Deadline: April 25, 2012 at 11:59:59 PM Pacific Daylight Time (PDT) The ThinkQuest Competition engages students to solve a problem using their technology, critical thinking, and communication skills. Test your skills against those of your peers globally!
Competition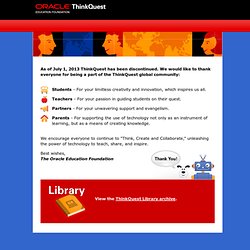 Indian Academy of Sciences C.V.Raman Avenue Sadashivanagar P.B.No.8005 Bangalore 560 080 Indian National Science Academy Bahadur Shah Zafar Marg New Delhi-110 002 The National Academy of Sciences, India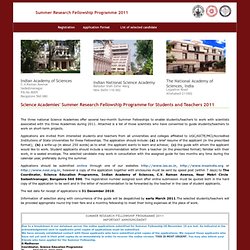 Science Academies' Summer Research Fellowship Programme for Students and Teachers 2011
Hacker Cup
Quark 2011 | BITS - Pilani K. K. Birla Goa Campus Techno-Management Festival
Apogee 2011
Over the years the Birla Institute Of Technology And Science, Pilani has built and maintained a reputation of imparting the right mix of education, experience and ethics that form the basis for achieving success in the modern world. Apogee, one of the largest technological symposiums of the country has kept up this tradition of innovation and breaking unprecedented frontiers. The 5 day fiesta of Apogee to be held this year from 25th to 29th of March sees the confluence of thoughts and ideas amongst more than 10,000 young minds from not only India's but the world's top notch universities. Truly justifying its dictionary meaning as "the highest point", Apogee signifies the zenith of science, engineering and path-breaking technology in a landscape of future visionaries, scientists, corporate bigwigs and inventors.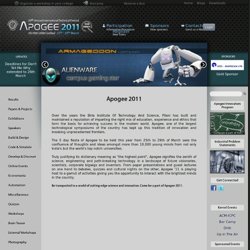 Widget Awards
Hopefully you will find what you are looking for at: The Company Who we are, what we do, our history and vision. Includes press and investor information.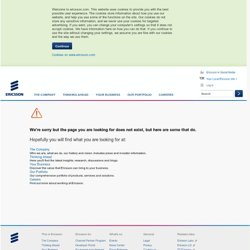 C-DAC: Centre for Development of Advanced Computing
RRCAT- Raja Ramanna Centre for Advanced Technology, Indore
Notice: Selected and waitlisted candidate list The Department of Computer Science and Engineering, IIT Delhi, announces two 6-week summer workshops on Embedded System Design Computer Graphics and Vision The workshop is intended for Engineering students who will have completed at least 6 semesters of undergraduate curriculum ( strictly before 1st June 2009). Exceptional students who will have completed only 4 semesters may also be considered. Masters students are also encouraged to apply.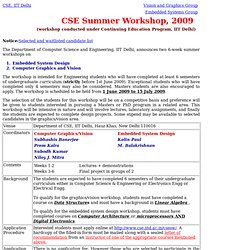 IIT Delhi: Summer Workshop on Graphics and Vision, 2009
Google Product Prodigy
IJSER, International Journal of Scientific and Engineering Research